Schools Christmas concert is online hit
MUSICIANS from Inverclyde Council's schools music service have become an internet hit with more than 1,500 views and counting for their annual Christmas concert.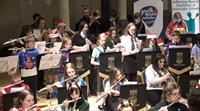 This year's event at Greenock Town Hall was behind closed doors due to Covid-19 restrictions but the performers still put on a cracker of a show packed full of festive favourites.
The concert was filmed to ensure staff, family and friends did not miss out and it has been viewed more than 1,500 times on YouTube.
Performing at the event were musicians from the Inverclyde schools' junior wind orchestra, junior choir, junior strings, senior strings, senior choir, senior wind orchestra and piping group.
There were renditions of classical and more modern Christmas songs, such as 'Jingle Bells', 'Unto Us a Child is Born', 'Santa Claus is Comin' to Town' and 'Merry Christmas Everybody' during the concert lasting almost 90 minutes.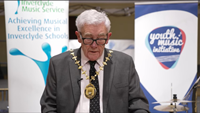 Speaking at the event, Provost Martin Brennan said: "It is more than a pity and more than a shame that we haven't been able to meet here in person to enjoy and celebrate the talents of our young musicians.
"But what we have seen and heard on the video is still quite special and quite special is what we have come to expect of our schools here in Inverclyde.
"Our pupils are clearly talented and importantly our schools nurture their talent."
Watch the video online via the link on this page.