Latest committee meetings available to watch
THE latest cycle of Inverclyde Council committee meetings are now available to watch online.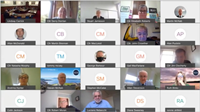 Recordings can be viewed on the council website and YouTube channel, both of which can be accessed by clicking on the links in the 'Related Links' and 'Other Websites' sections of this page.
Committee meetings have been recorded and published online throughout the pandemic to keep people informed about decision making while in-person access to meetings has been restricted due to Covid-19 regulations.
The videos are in addition to agendas and minutes of meetings which continue to be published on the 'Committees & Meetings' section of the council website, which can be accessed via the link on this page.
The latest cycle features meetings of the following committees: Inverclyde Council, Policy & Resources, Local Police & Fire Scrutiny.