Celebrating care experienced young people
A LIGHT is being shone on care experienced children and young people in Inverclyde to mark Care Day 2021.
The annual international event is a celebration of youngsters around the world who are involved or have been involved in the care sector, as well as the people who support them.
In Inverclyde, Proud2Care and Mini Champs are two local groups, run by Inverclyde Council/Health and Social Care Partnership (HSCP) and Your Voice, which are leading the way in raising awareness of care experienced young people, their rights and empowering them.
Care Day, the world's biggest celebration of children and young people with care experience, takes place this year on Friday 19 February.
Councillor Stephen McCabe, leader of Inverclyde Council, said: "We have fantastic networks locally supporting carers and care experienced people.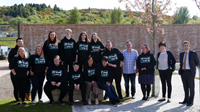 "Care Day is an opportunity to celebrate that and the part they play in making Inverclyde the caring and compassionate place it is.
"It's also a chance to acknowledge the hard work that goes on behind the scenes by staff and volunteers across the council, HSCP and the third sector supporting our caring community."
The Proud2Care group is aimed at young people aged 12-26 while Mini Champs is for children aged 7+.
Both provide safe and fun platforms for care experienced youngsters to meet up and make new friends in relaxed, welcoming and non-judgemental environments.
They also work with staff to arrange activities and events, all aimed at enhancing physical and mental wellbeing.
Young people involved in the groups can include those in residential, foster or kinship care, as well as anyone who is adopted or looked after at home with support.
Councillor John Crowther, Inverclyde's carers' champion, said: "The work of the Proud2Care and Mini Champs groups is truly phenomenal, from the young people themselves through to the staff who are supporting them.
"What they are doing is also having such a positive impact on the Inverclyde community as a whole."
Proud2Care and Mini Champs have been running for four years and a group is currently in the early stages of development for young adults aimed at supporting them with new tenancies at a key stage in their lives.
To find out more about Proud2Care, Mini Champs or generally about support for care experienced young people, contact Inverclyde's children's rights officer Aileen Wilson by emailing aileen.wilson@inverclyde.gov.uk.
Any local businesses or members of the community who might be able to offer support to the group by way of skill sharing, opportunities and activities are also being encouraged to get in touch.