Digital device helpline launched
HELP is at hand for Inverclyde residents struggling to get to grips with their technological troubles.
A new 'Device Advice' service has been launched by the council's libraries staff to help people get the most from their mobile devices, such as smart phones and tablets.
A helpline is now available on Mondays and Thursdays for anyone who is looking for advice.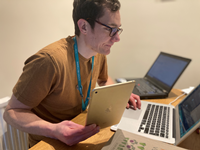 Friendly and knowledgeable staff are on hand to assist with the very basics from turning a device on, connecting to Wi-Fi and adjusting volume controls right through to communicating through email, posting on social media, staying safe online and using the internet.
Councillor Jim Clocherty, Inverclyde Council's depute leader and convener of education and communities, said: "More people now than ever before are online and using all sorts of digital devices to stay connected to family, friends and other things they miss, like our first-class library services.
"But using technology doesn't come easy to everyone and it's often something relatively simple that creates problems – we've all been there.
"Whether you're having trouble with being 'on mute' during video calls or even just turning on a device, the team is there to help.
"Hopefully this means residents can send their technological troubles straight to the rubbish bin."
The twice-weekly 'Device Advice' sessions take place as follows:
Mondays 10am-11am: Call 01475 712322
Thursdays 2pm-3pm: Call 01475 712346
For more about local library services, visit www.inverclyde.gov.uk/community-life-and-leisure/inverclyde-libraries or check out the Inverclyde Libraries Facebook and Twitter pages.