Local government pledge call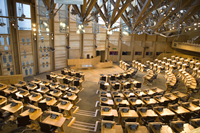 Inverclyde Council leader has backed a call that local government is recognised in manifestos in the run up to the Scottish Parliament elections in May.
Councillor Stephen McCabe is supporting a call from local government body COSLA, the Convention of Scottish Local Authorities, asking parties to include a pledge to support councils.
He said: "The call from COSLA aims to recognise the important role councils play in Scottish public life right across the country and to protect services and budgets.
"It also seeks to remove ring fenced funding and increase core funding to deliver fair funding for councils. It also aims to protect the role of democratically elected councillors, ensure no functions are removed or reduced from councils and an end to centralisation of public services."
COSLA Statement:
GIVE LOCAL GOVERNMENT THE PLACE AND RESPECT IT DESERVES IN PARTY MANIFESTOS SAYS COSLA
COSLA is calling on all political parties to acknowledge the rightful role of Local Government in their manifestos ahead of this year's Scottish Parliamentary elections.
The organisation, which represents all 32 Councils in Scotland, hopes parties will reference its recently launched Blueprint in their manifestos and make a commitment to its aspirations.
Commenting today (Monday) COSLA President Councillor Alison Evison said: "This last year has been like no other, the forthcoming elections to the Scottish Parliament will be like no other and Local Government is the sphere of Government at the heart of our communities like no other.
"The COSLA Blueprint provides a narrative around the kind of country we want, and about the changes that could make a real difference to communities across the country – the election this year offers the chance to make this a reality.
"The value of Local Government can be seen in our response to Covid-19, where Councils have taken decisive action to support communities, people, and businesses.
"For too long now Local Government has been given a poor diet - and that is why we developed the Local Government Blueprint, which is our menu for change that we want to see.
"The new Parliament provides the opportunity for us to reiterate our value - for too long Scottish Local Government has not had its rightful place at the top table.
"Our response during the pandemic has been remarkable, our Communities have appreciated what we have done on their behalf and realise that only Local Government comprises all of the various ingredients that can truly deliver for our communities
"Therefore we call on all parties to make a commitment to the COSLA Local Government Blueprint in their forthcoming Manifestos."
A copy of the Pledge that COSLA Would like to see incorporated into Manifestos is below:
In our Manifesto, we pledge to:

Fully recognise the Place of Local Government and the vital role that it plays as a legitimate sphere of Government in the fabric of Scotland in line with the COSLA Blueprint.

Protect the integrity of Local Government and ensure that the role of democratically elected councillors is not diminished thus ensuring communities have a direct link to the essential services delivered in their local area.

Deliver a fair funding settlement for Scottish Local Government including the removal of ring fenced funding pots and increases to core funding to support local decision-making.

No removal or reduction in essential Local Government functions.

An end to centralisation and move to a default position where Government functions should be managed and delivered as close to communities as possible through local democratic accountability in councils