Second covid vaccination centre opening in Port Glasgow
A SECOND Inverclyde coronavirus vaccination centre is set to open next week.
Port Glasgow Town Hall will be used by NHS staff to administer doses of the Covid-19 vaccine from Monday (8 February).
It is in addition to the existing vaccination centre at Greenock Town Hall which opened at the start of this week.
Councillor Robert Moran, Inverclyde's convener of health and social care, said: "As more people are invited to receive their jab, there's naturally a need for more space to allow NHS staff to administer the vaccine.
"Like Greenock Town Hall, Port Glasgow Town Hall has been chosen as a community vaccination centre because of its size, location and good transport links.
"Both also worked well for delivering flu jabs recently, along with other local venues.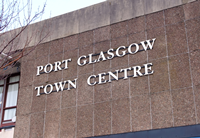 "It's great to see the council, HSCP and our partners at Inverclyde Leisure, which manages our town halls, working so effectively with our NHS colleagues to mobilise the vaccination programme locally to deliver the jab to as many people as quickly as possible."
People should not turn up at any of the vaccination centres without an appointment.
They will be contacted directly by the NHS when it is their turn to get a jab.
Dr Linda de Caestecker, director of public health at NHS Greater Glasgow & Clyde, said: "The covid vaccination programme is moving at pace right across Greater Glasgow and Clyde. Our local GPs have been making great progress with those people aged 75 and over and I am delighted that the next major milestone for the programme has been achieved, with the opening of 17 mass vaccination centres in our region.
"People aged 70-74 have started to receive letters with information about their vaccination appointment, which is expected to take place at a community vaccination clinic.
"Those who are in the clinically extremely vulnerable category will be contacted by their local GP or Health and Social Care Partnership, with details of when and where they will receive their vaccination, which may be at the local GP surgery or community clinic.
"We would like to reassure patients that all those over 70 who wish to be vaccinated, will be given this opportunity, either through their GP or an invite to a community vaccination clinic by mid-February. For those people who will be attending one of the centres in the coming weeks, our vaccination teams are very much looking forward to welcoming you to roll up your sleeve and be vaccinated."
For more information about the Covid-19 vaccination programme visit www.nhsinform.scot or call the national vaccine helpline 0800 030 8013.
A handy 'walk through' video showing people what to expect when they go for their jab at Greenock Town Hall has been produced and is available to watch on the Inverclyde Council YouTube channel at www.youtube.com/inverclydecouncil and will be shared on social media.
One is currently being created for Port Glasgow Town Centre.
Inverclyde residents can access a wide range of advice and support, from shielding information and food deliveries, to advice on keeping homes and families warm this winter by calling the local coronavirus helpline on 01475 715275.