Second covid vaccine doses in care homes
SECOND doses of the Covid-19 vaccine are being administered in care homes across Inverclyde.
Delivery of the follow-up booster jab started yesterday (15 February) for residents and staff who received their first jag within care homes between 17 December 2020 and 21 January 2021.
It comes as the vaccination centres at Greenock Town Hall and Port Glasgow Town Hall will be operating reduced opening times from this week.
This is to allow for the rollout of second doses in care homes and a temporary reduction in stocks of the vaccine.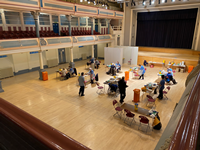 As has been the case since the start of the covid vaccination programme, people should not turn up at any of the vaccination centres without an appointment.
They will be contacted directly by the NHS when it is their turn to get a jab.
Councillor Robert Moran, Inverclyde's convener of health and social care, said: "The delivery of the second dose of the covid vaccine in our care homes is another significant milestone in the battle against this awful virus.
"Care home residents, supported by incredible frontline health and social care staff, are some of the most vulnerable in our community so it's great that they are now being given this extra layer of protection.
"It's only natural that as attention turns to delivering those important second doses that there will be a temporary slowing of people receiving their first jab.
"That combined with a temporary interruption in supplies of the vaccine means operations at Greenock and Port Glasgow town halls have been scaled back with limited opening hours.
"But the vaccination programme hasn't changed and people should not be turning up at centres without an appointment.
"For those who have not yet received even their first dose, it is coming. Please continue to be patient until you receive your appointment and, in the meantime, please keep to the rules to protect yourself and others."
With the new strains of coronavirus being more infectious, people are being told that it is more important now than ever before to keep following the safety rules, including to self-isolate if they develop symptoms.
Residents in Inverclyde are urged to remember FACTS: Face coverings; Avoid crowded places; Clean hands regularly; Two-metre distance; and Self-isolate and book a test if symptoms develop.
For more information about the Covid-19 vaccination programme visit www.nhsinform.scot or call the national vaccine helpline 0800 030 8013.
NHS Greater Glasgow and Clyde – Vaccination Programme Update
NHSGGC has vaccinated over 250,000 people since the start of December, including frontline health and social care workers, people aged 65 and older, individuals who are clinically extremely vulnerable and elderly care home residents. These priority groups have all been vaccinated in line with national targets.

To date, we have been in a position to move at pace due to the availability of the vaccine, meaning that we will also meet the target of offering a first vaccination to most people over the age of 65 by mid-February. People who have been unable to attend their GP or a community clinic are still being contacted.

As the First Minister has now confirmed, supplies of the vaccine have been affected by a "temporary reduction" in Pfizer's manufacturing capacity, with Scotland having received slightly lower stocks of the vaccine than expected.

We are adjusting our programme in line with this. From next week, we will be starting to administer each older adult care home resident with their second dose of the vaccine. We will prioritise administering the second dose to our staff. We will also continue to run vaccination clinics but with reduced appointments and our vaccination clinics will run over fewer days.

Once the supply of the vaccine increases, we are in a strong position to rapidly accelerate the programme once again.

We understand the anxiety that may be caused by a slowing of the vaccination programme and we are sorry for this. We would like to reassure members of the public that we will be able to increase vaccination appointments as soon as stocks are received.

There are a small number of patients who have been unable to attend this week due to adverse weather conditions and arrangements are in hand to reschedule these patients, and to finalise arrangements for the appointments schedule going forward.