Second dose delight for Inverclyde care homes
DELIVERY of second doses of the coronavirus vaccine is continuing in care homes across Inverclyde.
Residents and staff are celebrating the rollout of follow-up booster jabs throughout all 13 local establishments, including at the Bagatelle facility run by Greenock Medical Aid Society, pictured.
The delivery of second doses began on Monday 15 February for those who received their first covid jab within care homes between 17 December 2020 and 21 January 2021.
Councillor Robert Moran, Inverclyde's health and social care convener, said: "This is another major hurdle cleared in the race to suppress and, hopefully, eliminate coronavirus.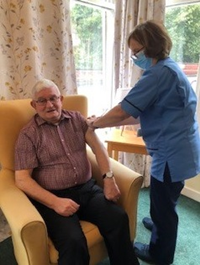 "Not only is this a milestone moment in terms of protecting the health of our care home residents – and staff – it's another step closer to reuniting them with their loved ones after so long apart."
The care home vaccinations are continuing alongside community inoculations at Greenock and Port Glasgow town halls, which are being delivered by NHS Greater Glasgow and Clyde with support from Inverclyde Council and Inverclyde Health and Social Care Partnership (HSCP).
Andrea Wyllie, chief executive of Greenock Medical Aid Society, which also operates Glenfield Care Home, said: "We are so relieved to see this happening. It's given everyone a real boost.

"We are hoping to see indoor visiting happening very soon and a return to more normal way of living and working within our care homes.
"We are very grateful to our partners at Inverclyde HSCP, the council and the health board for making this happen."
People are being reminded not to turn up to their GP's surgery or any of the community vaccination centres without an appointment as they will be turned away.
For more information about the Covid-19 vaccination programme, visit www.nhsinform.scot, the coronavirus pages of www.inverclyde.gov.uk, or call the national helpline on 0800 030 8013.