Care at home worker vacancies
A RECRUITMENT drive is underway to fill 20 posts within Inverclyde's care at home sector.
The recent tightening of coronavirus restrictions, including a return to 'shielding' for people with underlying health conditions, means there are several vacancies.
Inverclyde Health and Social Care Partnership (HSCP) now has 20 care at home posts available ranging from 14-28 hours per week.
There are permanent and temporary contracts and also contracts available on a sessional basis, giving people flexibility around working hours, but could lead to other opportunities and career progression into senior and supervisor roles.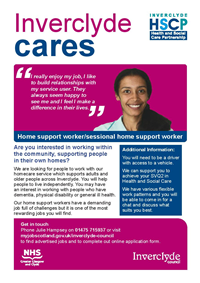 Councillor Robert Moran, Inverclyde's health and social care convener, said: "Our care at home staff perform a vital role in our communities supporting elderly, disabled and vulnerable residents day in, day out.
"Without them, everyday tasks would be extremely difficult, if not impossible, for these people. Care at home staff can often be the only person their client sees or speaks to from day-to-day so they also play a crucial role in tackling loneliness and isolation.
"Those are just some of the many reasons why it's important we continue to bolster the ranks and ensure we have staff to fulfil this first-class service and there's never been a better opportunity for anyone interested in care at home to get involved."
More about the roles on offer:
· Contracted posts ranging from 14–28 hours.
· Sessional posts, giving employee flexibility around working hours.
· Shift patterns are four on four off.
· Excellent terms and conditions.
· Excellent training programme, including SVQ2 in Health and Social Care.
· Support in the community from Senior Home Support Workers.
· Excellent career progression to supervisor/senior role.
People can find out more about the roles and apply online at www.myjobscotland.gov.uk.
Additional help with completing application forms is also available by phoning 01475 715949 or emailing Julie.Hampsey@inverclyde.gov.uk.