Changes to P1 registrations
A NEW way of registering children to start primary one is set to launch in light of the coronavirus restrictions.
From Monday (11 January) parents will be able to enrol their little ones to start school in August online only.
It is due to the current lockdown restrictions which require people, by law, to stay at home as much as possible.
Registration will run until Friday 15 January and forms, which are short and easy to complete, will be available from 9am on Monday at www.inverclyde.gov.uk/primary-registration.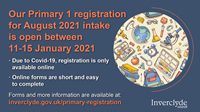 Councillor Jim Clocherty, Inverclyde Council's convener of education and communities, said: "We're all having to adapt to the constant changes brought about as a result of the pandemic.
"The new online system is designed to be quick and easy for parents to register their children to start primary one in August.
"Starting school is an exciting time for children and parents alike and the start of the registration process will allow us all to look forward to the new term in August when things will, hopefully, be back to something like normality."
Forms and more information about starting school, as well as deferred entry, are available at www.inverclyde.gov.uk/primary-registration.
Applications will not be accepted before Monday 11 January.
Parents will be notified by 30 April 2021 confirming their child's place in school and information regarding induction days will follow from the school after this date.
For additional help and information, parents should contact their child's early years establishment.