Helpline support stepped up
A HELPLINE which has already supported over 6,000 Inverclyde residents with access to everything from food and medicine to health and wellbeing advice is now open seven days a week.
The service, run by Inverclyde Council in partnership with third sector agency CVS Inverclyde, is being scaled up in light of the new tighter lockdown restrictions.
It is designed to be a 'one-stop shop' for local people to access provisions, support and advice by calling 01475 715275.
The coronavirus response line has been on the go since the start of the pandemic with almost 6,500 residents supported to date.
But following a return to lockdown restrictions, demand has increased with nearly 400 calls this week alone.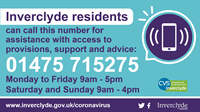 The helpline will now be available seven days from this weekend to provide increased support to residents in need.
Councillor Stephen McCabe, leader of Inverclyde Council, said: "People are continuing to experience extremely difficult times for a variety of reasons.
"The helpline is open to all Inverclyde residents to access practical and emotional help and support.
"We're here to help whether you are elderly or vulnerable and can't get out for essentials or medication, whether you are having to self-isolate and need support with your food shop, or whether you've fallen on hard times due to the pandemic and don't know where else to go.
"We've been at the forefront of the response to the pandemic since it started in March last year alongside our partners in the third sector.
"The collective effort has been truly monumental and I'd like to pay tribute to each and every member of staff and volunteer who has helped their fellow citizens during their time of need."
The helpline opening times had varied depending on demand but it will now be operational Monday-Friday from 9am-5pm and on Saturdays and Sundays between 9am-4pm.
If the lines are busy or if someone contacts the helpline out of hours, people can leave their contact details on the answering machine, which is monitored regularly, and they will be called back as soon as possible.
Contact the Inverclyde coronavirus helpline on 01475 715275 and for updates about local services and for other useful help and advice, visit www.inverclyde.gov.uk/coronavirus.