National award nod for museum
THE iconic Watt Institution in Greenock is in the running for another major design award following its £2.1 million restoration.
The A-listed Kelly Street facility, incorporating the McLean Museum & Art Gallery, Watt Hall and Watt Library, is a finalist in the 'Cultural and Religious Buildings under £5 million' category at the AJ Retrofit Awards run by leading professional architecture publication, the Architects' Journal.
The £2.1m revamp of the institution, completed in late 2019, was delivered by owners Inverclyde Council and its design partners, Collective Architecture.
Councillor Jim Clocherty, Inverclyde Council's convener of education and communities, said: "This is welcome recognition for the sterling work done to transform the Watt Institution into a modern museum and visitor attraction while preserving its wonderful history and architecture.
"We hope people will soon be able to admire the beauty of the building and the many treasures contained within when it's safe to discover Inverclyde once again."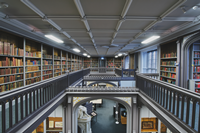 The Watt Institution is one of eight finalists across the UK, including major projects in London, Belfast and the north of Scotland, shortlisted for the AJ Retrofit award.
The nomination comes hot on the heels of the historic building being honoured with a special conservation honour at the Glasgow Institute of Architects (GIA) 2020 virtual prize-giving in November.
It also remains in the running for an award from the Royal Incorporation of Architects Scotland (RIAS).
Justin McNeil, project architect for Collective Architecture, said: "Having grown up in Gourock I fondly remember family visits to the McLean Museum at the weekend, so my involvement with this project was both at a professional and personal level.
"Working with a tight budget and specific requirements from Inverclyde Council to focus on making the building wind and watertight, we managed to carefully direct some of the funds to undertake internal works including improvements to disabled access throughout the building, redecoration of spaces, new signage and reception areas.
"I was glad to have the opportunity to contribute something back to the building and help ensure its continued importance to Inverclyde and further afield."
The Watt Institution reopened in October 2019 following the extensive internal and external refurbishment project funded by Inverclyde Council and supported by a £300,000 grant from Historic Environment Scotland.
The Grade A-listed institution dates back to 1800s but was brought into the 21st Century by the local authority's design partners, Collective Architecture.
To view the full AJ Retrofit Awards shortlist visit www.architectsjournal.co.uk/news/aj-retrofit-awards-2021-shortlist-revealed-cultural-and-religious-buildings-schools-and-health.
The winners will be announced at a virtual event on Wednesday 24 February.