Stay the course call from council leader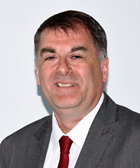 Inverclyde council leader has praised the area for the continued fall in covid infection rate and urged people to stay the course after the infection rate hit its lowest level since the New Year.
Councillor Stephen McCabe said: "It is hugely positive news that the infection rate is falling and showing a clear trend downwards.
"Going straight into the New Year and into a new stay at home lockdown across the country has been really difficult for so many people. Especially after our area had been doing so well in the run up to Christmas.
"I know it is hard but it's really important that we all stay the course. No one has been left unaffected in some way by the effects of this awful virus and there will inevitably be more bumps on the road along the way. But staying the course, following the guidance, always being vigilant and making sure we look out for each other are the ways we continue to protect ourselves, protect others and protect Inverclyde.
"If you need help during this time, council officers and our partners at CVS Inverclyde are on hand to support you just by calling 01475 715275."
The rate in Inverclyde peaked at 580 cases per 100,000 people, at the time the highest rate in the country. Now the latest data (from 25 January 2020) shows the rate at 153 per 100,000 and the downward trend is continuing.
Councillor McCabe added: "These numbers are impressive but also show the importance in not letting our guard down. We are once again among the lower rates across the NHS Greater Glasgow and Clyde areas. It's a positive place to be but we have been here before and must do all that we can to make sure the trend keeps going down.
And the council leader highlighted the opening of the covid vaccination centre at Greenock Town Hall as being a step towards recovery. He said: "The vaccines have been some of the most positive news any of us have had in a long time. But it is important that we put them into perspective that they aren't just really positive developments for our communities or for our country, they are good news for the entire world.
"Attending the vaccine centre when it is your time to do so and rolling up your sleeve to get the vaccine is on the face of it a really small act, but it is an incredible public service you are doing to help protect yourself and protect our community and help to get us on the road to recovery.
"I would urge residents to be patient for your turn for the vaccine, don't turn up without an appointment and support the vaccine roll out programme when it is your turn."