Outdoor cinema is picture perfect
THOUSANDS enjoyed a picture perfect weekend of free family films in the sun-bathed great outdoors as part of Inverclyde's Summer of Fun 21.
The council, in partnership with Inverclyde Leisure, organised a series of open-air screenings at Battery Park in Greenock over the course of Saturday and Sunday attracting almost 2,500 people.
The 'Pictures in the Park' event was part of the local authority's Summer of Fun 21 programme to keep children and young people entertained during the school holidays.
Film fans were treated to three screenings per day of family favourites including Grease, The Greatest Showman and Mamma Mia from the comfort of deckchairs and bean bags which were sanitised in between each performance.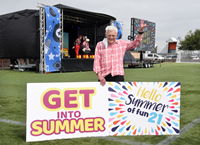 Families were also treated to live musical and theatrical performances before each movie and there were stalls selling popcorn, ice cream, soft drinks and hot snacks.
There will be an encore of Pictures in the Park featuring different films on the weekend of 7 and 8 August.
Provost Martin Brennan, who is also a vice-convener of Inverclyde Council's education and communities committee, said: "It was such a wonderful sight to see so many families enjoying a great day out at Battery Park while bathed in glorious sunshine.
"It can be difficult and expensive keeping children and young people entertained during the holidays so it's great that we're able to put on so many high-quality, free activities across the full seven-week break through Summer of Fun 21.
"The programme is proving a huge hit in keeping children and adults alike entertained and Pictures in the Park really was a blockbuster event."
Summer of Fun 21 is part of the national 'Get into Summer' campaign by Parent Club funded by the Scottish Government.
Pictures in the Park returns on Saturday 7 and Sunday 8 August with movies and pre-show entertainment each day at 12pm, 3pm and 7pm.
Entry is free and on a 'first come' basis.
Attendees are asked to dress appropriately for the weather.
For more information about Summer of Fun 21 and to book activities and events, visit www.inverclyde.gov.uk/summerfun21.