Ploughing on in summer
ROADS staff have been keeping a cool head during the recent heatwave by planning ahead for winter.
While temperatures have been rising, Inverclyde Council has been ploughing on with its preparations for when the mercury falls.
One of the most important tasks is ensuring the salt dome at the local authority's Pottery Street depot is topped up with enough grit to see the area through the winter months.
Some 3,000 tonnes costing almost £100,000 was recently delivered and by buying during the summer, the council is able to get a better deal and therefore more value for taxpayers' money.
The dome now houses nearly 5,400 tonnes of grit with 3,000-3,500 tonnes used in an average winter.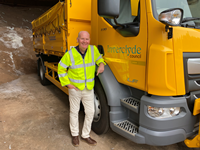 It is spread by the council's fleet of six gritters fitted with ploughs, including a brand new £100,000 vehicle, pictured, which enters service this year.
Councillor Michael McCormick, Inverclyde Council's convener of environment and regeneration, said: "While winter is the last thing anyone has been thinking about over the last couple of weeks as we've been enjoying a glorious spell of warm and sunny weather, our staff have been busy preparing for when the mercury goes in the opposite direction to ensure the wheels of Inverclyde keep turning.
"We have a vast and complex network of roads, pavements and other areas to maintain and it's a tall order, especially when there's a sudden drop in temperature or heavy snowfall.
"That's why we invested £10 million in the Pottery Street depot, including the salt dome, four years ago and spent even more on vehicles and other equipment to support our staff and the people of Inverclyde, particularly during winter."
As well as the council's own fleet of gritters and ploughs driven by a team of 16 drivers, external contractors and farmers are often drafted in to provide extra assistance.
Roads are treated on a priority basis to ensure vital routes, such as those in and around hospitals, ambulance depots, fire stations, police offices, schools and bus routes, are kept clear.
Anywhere between 50km-265km of road – 13-70 per cent of the network – will be treated on an ongoing basis depending on forecasts and conditions.
There are also some 450 grit bins located on roads which are not routinely gritted for residents to use.
For more information, visit www.inverclyde.gov.uk/roads.