School clothing and meals support increased
FAMILIES in Inverclyde are set to benefit from an increase to the school clothing grant for the new academic year with more pupils also set to receive free school meals.
The council is offering £150 for all eligible primary and secondary pupils for the 2021/22 term.
Inverclyde Council has traditionally provided families with more than the nationally agreed minimum, which last year was set at £100 per eligible child with the local authority making £145 available.
For the new term starting in August, the Scottish Government and council umbrella body Cosla agreed that a minimum of £120 for primary age children and £150 for those in secondary should be made available across the country.
In Inverclyde, each eligible child per household will receive £150 regardless of what stage of school they are at.
As well as the clothing grant, the council has set aside £192,000 from its £4 million Covid-19 recovery fund for the early implementation of universal school meals for children in P4-7 during the 2021/22 term.
The government and Cosla recently announced an extension of universal school lunches to include P4 by August 2021 and P5 by January 2022 in addition to the existing provision for P1-3.
Inverclyde Council has funded P4 lunches since 2019 meaning the rollout to P5s will take place ahead of schedule when pupils go back next month.
The extension to primaries six and seven will be phased in as soon as possible thereafter.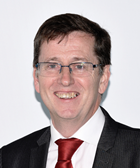 Councillor Jim Clocherty, Inverclyde Council's depute leader and convener of education and communities, said: "Tackling poverty and inequality is a key priority for the council and one of the ways of doing that is reducing the cost of the school day for families and helping to put money back in their pocket.
"We have arguably the best schools estate in Scotland, if not the UK, but ensuring our children and young people are fed and clothed is as equally important to help them get the best possible education and start to their lives.
"That's why we traditionally provide a more generous clothing grant for our families and why we've funded universal school meals for P4s since 2019, which now means the rollout to P5s can begin five months earlier than the January 2022 deadline."
Applications are now being accepted for clothing grants and for free school meals for children who will not automatically receive a lunch from the start of the new term.
Support is available to families who are in receipt of:
Income Support (IS);
income based Job Seekers Allowance (JSA);
income related Employment and Support Allowance (ESA);
child tax credit, but not working tax credit, and your income is less than £16,105 (in 2021/2022) as assessed by HMRC;
working tax credit and/or child tax credit and have an income of no more than £11,916; as assessed by HMRC or
Universal Credit, where your take home pay does not exceed £970, as shown on your most recent monthly Universal Credit statement.
you are seeking asylum and, receiving support under part VI of the Immigration and Asylum Act 1991;
you look after a child/children as part of a formal Kinship Care agreement, registered by Social Work Services
For more information, including eligibility criteria and how to apply, visit www.inverclyde.gov.uk/schoolgrants and for additional help and support email EMA.HO@inverclyde.gov.uk or phone 01475 712893.