School pupils getting ready for work
SCHOOL pupils in Inverclyde are being given a helping hand into work after the council signed up to a national training and employability programme.
The local authority is involved for the first time in the national Career Ready mentoring scheme, which pairs employees with senior secondary students to give them an insight into the world of work.
Three pupils – two from Port Glasgow High and one from Inverclyde Academy – have been allocated mentors across a variety of council departments, including corporate communications, libraries, economic development and the Watt Institution, as part of a trial to see what extra support can be given to young people as they turn their attentions to life after school and employment opportunities.
It is a two-year programme beginning in S5 and continuing into S6 and typically involves regular meetings between mentors and students, or mentees, and a paid internship.
Students Kieran McGeown, from Inverclyde Academy, and Tyler Forman and Darcy Milne, of Port Glasgow High, are pictured outside the Wallace Place entrance the Municipal Buildings in Greenock at the start of a training day at the Inverclyde Council headquarters.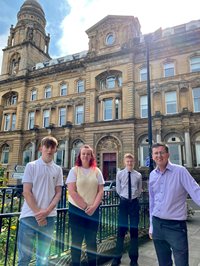 Councillor Jim Clocherty, depute leader of Inverclyde Council and convener of education, said: "It's great to see these young people being given an early introduction to the world of work through the Career Ready programme.
"We're always looking at ways to give our young people the best possible start to their working lives and to encourage them to follow their dreams and achieve their career ambitions. I hear from the staff running the programme that the young people are already demonstrating the key skills that employers want – communication, problem solving, time management, research, IT, team work and, most importantly, a positive attitude and strong work ethic and have clear ambitions for their career paths.
"It fits in nicely with our £6 million Inverclyde Works jobs recovery programme to provide over 200 job opportunities, particularly for our young people, which includes the recent recruitment of 20 new modern apprentices in addition to 14 graduate posts and 30 roles through the UK 'Kickstart' scheme."
This is the first time the council and Inverclyde as a whole has been involved in the programme with Scottish Fire and Rescue Service, World Teachers, Diageo and Scottish Government also taking part by mentoring and offering intern placements for around a dozen Inverclyde young people.
Mentee Darcy Milne, 16, from Port Glasgow, said: "Career Ready is an experience I needed as it has given me a sense of direction for my future.
"I've gained many skills and it's given me a drive to pursue the career path I'm interested in."
Fellow mentee Kieran McGeown, 17, from Greenock, said: "It's been a great experience so far and I've learned so much, particular in the last two weeks with the internship.
"My knowledge and understanding of the whole world of work has increased massively, as has my confidence."
Student Tyler Forman, 16, from Port Glasgow, said: "There is nothing quite like this programme and I'd do it again in a heartbeat.
"It's given me a great insight into a variety of different jobs and services across the council and will stand me in good stead for when I join a working environment."
For more information about vacancies across Inverclyde Council and Inverclyde Health and Social Care Partnership (HSCP), visit www.myjobscotland.gov.uk/councils/inverclyde-council/jobs and look out for the #InverclydeWorks hashtag on social media.