Consultation on further rollout of police body cameras
RESIDENTS in Inverclyde are being given another chance to have their say about plans to equip more of Scotland's police officers with body-worn video cameras.
Councillor Tommy McVey, chair of Inverclyde Council's local police and fire scrutiny committee, is encouraging people with an opinion on the matter to make their voice heard after the national force launched a formal public consultation.
It comes after almost 9,000 people responded to an online survey in February this year – one of the largest ever carried out by Police Scotland.
Senior officers say the initial feedback was 'positive' and that a 'significant majority' supported the use of body-worn cameras.
That survey sought approval for armed officers to use body-worn video cameras during the COP26 conference in Glasgow in November with a view to wider rollout across the police force.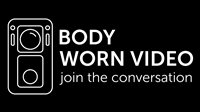 The new national consultation is now seeking views on providing more officers with the technology.
It launched on Tuesday (1 June) and runs until 31 August.
Councillor McVey said: "It is right that Police Scotland should embrace any new technology which enhances the safety of their officers and members of the public.
"The introduction of body-worn video cameras on police officers would certainly do that.
"But this would be a major change so it's important that as many people as possible share their views.
"There was a huge and largely positive response to the survey about armed police wearing cameras for the COP26 conference and that will now go ahead.
"It's good to see such large-scale public involvement in making important decisions like these and I hope there's a similar level of participation in this new public consultation."
Police Scotland says body-worn cameras in other areas has been shown to have a positive impact on the safety of the public and the officers wearing it and that all other armed police units in the UK are currently deployed with them.
Chief Superintendent Matt Richards, who is leading on the project, said: "We know there is already strong public support for the use of body worn video cameras by armed officers.
"A recent public survey showed a significant majority of people who participated thought that the use of body worn video cameras would increase trust and confidence in the police.
"With this positive response in mind, we are now progressing our plans to equip our armed officers with body worn video cameras, bringing Police Scotland into line with other police services in the UK.
"In regards to the rest of Scotland's police officers and staff, we recognise the introduction of this technology to all appropriate frontline staff is a big step for Scottish policing. To this end, we have now begun a formal public consultation on the introduction of body worn video cameras to the majority of officers and appropriate staff across the country.
"It is important to Police Scotland that we continue to engage with and involve communities whenever we consider new technology that impacts directly on the public, to ensure they have a voice that can inform our plans, address any ethical concerns where possible and to allow us continue to police with public support.
"The responses to our national consultation will help inform our protocols, code of practice and training to ensure that body worn video cameras are used in appropriate and proportionate way. In so doing, we will be better equipped to protect the public, our staff and provide best evidence at court.
"To enable us to develop and deploy body worn video most effectively, please take some time to take part in our national survey by visiting the body worn video pages on the Police Scotland website."
For more information visit www.scotland.police.uk/about-us/body-worn-video/ and to take part in the survey, visit consult.scotland.police.uk.