Covid vaccine reminder
PEOPLE in Inverclyde are being encouraged to get a Covid-19 vaccine when offered it to help beat the virus.
Council leader Stephen McCabe is urging residents who have not yet had a first dose to book an appointment if they do not already have one.
Councillor McCabe is also reminding those who have had an initial jab to make sure they go for their second dose.
The message comes as coronavirus cases across the country continues to rise, including in Inverclyde.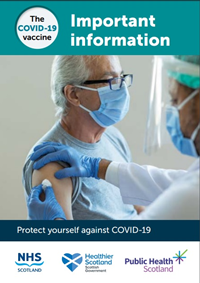 Although infection rates locally are significantly lower than in other areas, they have risen to 150 cases per 100,000 people.
Councillor McCabe said: "There's been a high vaccination rate among the most vulnerable age groups and that's translating into low case and hospitalisation rates among those groups.
"This shows that the vaccine is working and helping to protect people from this awful virus.
"That's why it's so important for the rest of the population to get the vaccine when offered it.
"We must do all we can to protect ourselves, protect each other and protect Inverclyde and getting the first and second covid jab is one of the best ways of doing that."
Case rates are currently highest nationally for those aged 25-44.
These groups are currently being invited for vaccinations and there is some evidence that attendance rates are significantly lower in these age ranges.
Anyone who cannot attend an appointment is being encouraged to rearrange online.
The council will be working with the health board, which is leading the vaccination programme, to arrange further drop-in clinics for those struggling to attend appointments.
Residents are also being encouraged to use lateral flow test kits at least twice a week, even those who are fully vaccinated, to help keep rates of transmission down.
Kits can now be ordered online at www.nhsinform.scot/testandprotect or collected from Crawfurdsburn and Boglestone community centres or most local pharmacies.
Councillor McCabe said: "Regular testing, even if people don't have any symptoms of Covid-19, is another useful tool in the fight against coronavirus.
"Residents should continue to book a test in the usual way if they have symptoms but testing kits are now available for those who are asymptomatic and can now be ordered online and delivered straight to their door or picked up from various community-based settings.
"Crucially, it's getting the vaccine – first and second doses – that's going to help us get our lives back on track and protect us all from the most serious effects of Covid-19."
For more information about the vaccine, visit www.nhsinform.scot/covid-19-vaccine or call the national Covid-19 Vaccination Helpline on 0800 030 8013.