Land for 5,000 homes among new local development plan proposals
A KEY stage has been reached in the setting of a new local development plan for Inverclyde with land identified for over 5,000 new homes and 30 hectares for industrial or business use.
Following a period of consultation with residents and stakeholders, the council has published its proposed plan.
It is an important stage in the process as it represents the local authority's settled view as to what the final adopted content should be.
But those with an interest in the plan can still make representations setting out modifications they would like to be made until 9 July 2021 when the current consultation period ends.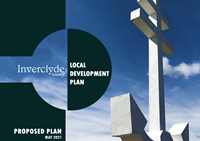 Councillor Michael McCormick, Inverclyde Council's convener of environment and regeneration, said: "This is an important stage in the preparation of the new local development plan as it represents what the council believes the finalised plan should look like.

"The plan identifies land for over 5,000 new houses and over 30 hectares for new industrial and business development.
"It seeks to protect our town and local centres by directing appropriate new development to those locations.
"The plan also seeks to protect Inverclyde's historic and natural environment.

"The aim of the plan is to deliver an Inverclyde that is an attractive and inclusive place to live, work, study, visit and invest and it does this through encouraging investment and new development to create a sustainable, successful place so it's in all our interests to make sure we get it right."
The proposed plan is available to view on the council website at www.inverclyde.gov.uk/newldp and responses can be submitted to:
email to ldp@inverclyde.gov.uk with the subject heading 'Local Development Plan'
completing the representation form or e-form available at www.inverclyde.gov.uk/newldp
writing to Planning Policy, Regeneration & Planning, Municipal Buildings, Clyde Square, Greenock, PA15 1LY
To discuss the proposed plan, please contact a member of the Inverclyde Council's planning policy team on 712491.