Louise is new Chief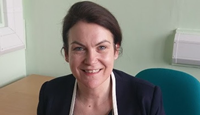 Inverclyde Council has appointed Louise Long as the new Chief Executive.
Louise replaces current Chief Executive Aubrey Fawcett who is set to retire from the council in September after five years in the job.
Now, after interviews, councillors have agreed the appointment.
Louise Long is currently Chief Officer for Inverclyde Integration Joint Board (IJB) and Corporate Director of Health and Social Care Partnership (HSCP) at Inverclyde Council.
Inverclyde Council Leader, Councillor Stephen McCabe, said: "Louise has been corporate director with the council for four years and has consistently shown both her leadership skills and compassion in the Health and Social Care Partnership. During the pandemic she has led form the front in ensuring that Inverclyde's health and care response has helped to protect and support our community.
"Louise becomes the first woman to hold the job of Chief Executive in the council breaking another barrier and I hope inspiring women and girls across Inverclyde."
"The role of Chief Executive will allow Louise to take all of the skills and experience she has built throughout her career and to use those to lead the corporate management team through covid recovery and beyond.
"Covid presents public services with some unique challenges but looking ahead Scotland's councils face a huge number of challenges including how they are supported financially to deliver what is best for our communities. I have no doubt that Louise will be ready for those challenges from day one.
"I would like to take time to thank the other candidates including those interviewed and the ones who applied who were unsuccessful. While the news will for them be one of disappointment, I can say that it is heartening to see that there are so many committed, caring and talented public servants out there who will support local government in our country through the challenges ahead."
Louise, said: "I am delighted to be appointed Chief Executive of Inverclyde Council. My time with Inverclyde since joining has been inspiring seeing how public service staff have responded to supporting the community especially during the pandemic. I aim to build on the work that has been done and ensure that Inverclyde continues to nurture our communities, deliver excellent public services and be a force for good for each and every part of our area."
Louise has been Chief Officer for Inverclyde Integration Joint Board and Corporate Director of Health and Social Care Partnership (HSCP) at Inverclyde Council since May 2017. Prior to that she was Head of Children and Families and Justice and Chief Social Work Officer at Argyll and Bute Council from 2015 starting at that council in 2012 as Head of Children's Services.
Louise started her career at Glasgow City Council as a social worker, held social work management roles with East Renfrewshire Council, head of service at South Ayrshire and also worked for five years with Aberlour Childcare trust.
Aubrey Fawcett, the current Chief Executive of Inverclyde Council, retires on 19 September 2021 and Louise is expected to take up post immediately after.