Partner Press Release: 'Climate Beacon' to link creativity and climate change in Inverclyde for COP26
Commenting on the launch of the 'Climate Beacons' project, Councillor Jim Clocherty, depute leader of Inverclyde Council and convener of education and communities, said: "We all have to unite to tackle the climate emergency and I'm delighted that our vibrant creative sector here in Inverclyde, led by the Beacon Arts Centre, is on board to use the arts to deliver important climate change messages to a wider audience.
"It's great that the council is also part of that through our libraries service, which will be running 'Climate Cafes' and doing some work on environmental sustainability.
"We're committed to ongoing reduction of our carbon footprint and we've invested in many 'green' initiatives in recent years, such as electric vehicles, community charging points and energy saving street lights.
"But we all must do more and that's why we're pleased to support initiatives like this to encourage more people to think about the environment and the planet and to ensure there's a positive climate change legacy from the COP26 summit later this year."
'Climate Beacon' to link creativity and climate change in Inverclyde for COP26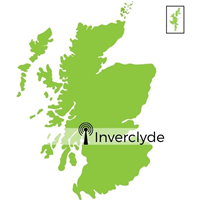 Beacon Arts Centre, Belville Community Garden Trust, RIG Arts and Inverclyde Libraries are coming together to inspire public engagement and positive action in Inverclyde in the run up to and beyond the COP26 UN Climate Change Conference, taking place in Glasgow this November.
The partnership will be one of seven hubs across Scotland known as 'Climate Beacons', funded by the Scottish Government's Climate Change and Culture Divisions, Creative Scotland, and Museums Galleries Scotland. Six other Beacons are taking form in Argyll, Caithness & East Sutherland, Fife, Midlothian, the Outer Hebrides, and Tayside.
Bringing together shared resources and knowledge from cultural and climate organisations, the Climate Beacons will provide a welcoming physical and virtual space for the public, artists and cultural sector professionals, environmental NGOs, scientists and policymakers to discuss and debate COP26 themes and climate action specific to their local area.
Formed of a partnership between Beacon Arts Centre, Belville Community Garden Trust, RIG Arts and Inverclyde Libraries, among others, the Inverclyde Beacon will focus on the roles of climate change mitigation and adaption as part of Scotland's most economically deprived area's recovery from COVID-19.
Pauline Kane, Director at Beacon Arts Centre, said: "We are thrilled to be working in partnership with a wide range of cultural and environmental organisations throughout Inverclyde and across Scotland to deliver an inclusive and exciting programme of activities on climate change as Inverclyde's Climate Beacon - centred around education, awareness and participation - together with our communities."
The seven Climate Beacons will operate in the lead-up to, during, and after COP26, each utilising their own expertise and responding to the needs of their local area and communities with planned themes including Scotland's temperate rainforests, industrial heritage, water, adaptation to climate change, land use, biodiversity, green jobs, and the recovery from COVID-19.
Scottish Government Culture Minister Jenny Gilruth said of the project: "This pioneering work from Creative Carbon Scotland ahead of COP26 makes a powerful link between culture and climate action. Climate Beacons will play an important role in ensuring that the history-making COP26 negotiations are not only felt in Glasgow but across the country, helping everyone in Scotland to better understand climate change and how to contribute to becoming a net-zero society."
Creative Carbon Scotland, an arts and sustainability charity, is overseeing the project. They are connecting the seven Beacons and offering support throughout, alongside co-ordinating partners Architecture & Design Scotland, Creative Scotland, Edinburgh Climate Change Institute, Museums Galleries Scotland, Scottish Library and Information Council, and Sustainable Scotland Network.

Ben Twist, Director at Creative Carbon Scotland, said: "Tackling climate change requires us to find imaginative solutions to complex problems. Cultural buildings and events can provide an open and welcoming space for these challenging conversations, bringing people together to collectively think, imagine, feel and develop lasting connections that will strengthen future climate action."
To find out more about each of the Climate Beacons, how to get involved and keep up to date with latest developments, visit www.climatebeacons.com.