Partner press release: Get into Summer
Local children head to Lunderston Bay, Gourock to get their toes wet while rock-pooling as part of the national Get Into Summer campaign.
The rock-pooling event is just one of the many fun-filled activities on offer this summer as part of Inverclyde Council's Summer of Fun '21 initiative, which supports The Scottish Government and Parent Club's 'Get Into Summer' campaign.
'Get Into Summer'1 offers free and discounted activities and tips for children, teens, parents and carers to boost their health and mental wellbeing, acknowledging how tough the last year has been.
Pupils in attendance were from Garvel Deaf Centre, based at Moorfoot Primary School and Nursery Class in Gourock, and St Columba's High School, also in Gourock, Inverclyde.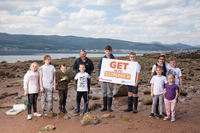 Councillor Jim Clocherty, depute leader of Inverclyde Council and convener of education and communities, said: "It's great that children and young people have something to look forward to during the school summer holidays after such a difficult spell for them especially over the last year or so.
"We're delighted to be supporting the Get into Summer initiative and we've incorporated that into our Summer of Fun 21 programme which is jam-packed with a variety fun-filled events and activities for all ages, including rock-pooling with our Clyde Muirshiel rangers here at the magnificent Lunderston Bay in Gourock.
"I'm sure many working families will be thrilled to have lots for their children to do over the summer too and I hope this encourages people to discover what's right on their doorstep right here in Inverclyde."
John MacLean, an Inverclyde Council countryside ranger for Clyde Muirshiel Regional Park, said: "I'm so pleased to welcome children and young people back to Lunderston Bay and to see them enjoying themselves and exploring the wonders of nature.
"The Get into Summer initiative is a fantastic way to give families and young people something to do during the school holidays and encourage them to discover what's going on in their local area, like here in Inverclyde where we've launched Summer of Fun 21.
"I look forward to seeing many more happy faces over the coming weeks."
For more information about the 'Get Into Summer' campaign visit: https://www.parentclub.scot/topics/get-into-summer
1 'Get Into Summer' offers free and discounted activities and tips for children, teens, parents and carers to boost their health and mental wellbeing