Asymptomatic testing site update
MORE than 100 people attended Inverclyde's asymptomatic testing centre in its first full week with employers now being encouraged to take advantage of the site.
Gourock's Gamble Halls is where people without symptoms of Covid-19 can go for a free rapid test to determine whether they have the virus or not.
The Shore Street centre, which launched on 2 March, is being run by the Army with support from Inverclyde Council/HSCP and the NHS.
From next week it will be open from Monday-Friday from 11am to 5pm.
A total of 103 people attended for a test in the first full week – around 21 people on average per day.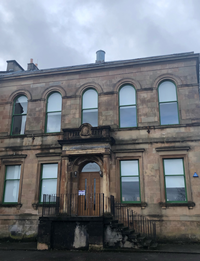 Residents are being reminded that tests are free, no appointment is necessary, results are usually delivered within 30 minutes and they can attend more than once.
Local employers are also being encouraged to take advantage of the site for staff as part of a frequent testing regime to help limit the spread of the virus among those not displaying obvious symptoms.
Councillor Robert Moran, Inverclyde's convener of health and social care, said: "The virus affects people in different ways and many will display no symptoms at all and could be unknowingly spreading covid.
"The asymptomatic testing centre is therefore a great asset for us to have to help keep infections down and I encourage people to use it.
"To have testing readily available with such a quick turnaround time for results could be a valuable asset for local employers, their staff and people who have to travel to Inverclyde for work purposes to help nip the spread of the virus in the bud and keep everyone safe."
The Gourock testing centre is for asymptomatic people only.
Anyone who is displaying coronavirus symptoms – a continuous cough, fever, or loss of taste and smell – should seek a test in the usual way either through their employer, GP or NHS Inform.
The asymptomatic site is also open to anyone visiting Inverclyde from other locations for work purposes.
People can use the centre for a test as many times as they like.
For more information, including a frequently asked questions section, visit www.inverclyde.gov.uk/asymptomatic-test.
To find out about Covid-19 testing, including for those people who may be experiencing symptoms, please visit www.nhsinform.scot or the coronavirus pages of www.inverclyde.gov.uk.
Inverclyde residents can call the local coronavirus helpline on 01475 715275 to access a wide range of advice and support, from shielding information and food deliveries, to prescription deliveries and keeping homes warm this winter.