Day of reflection – coronavirus one year on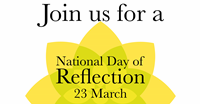 On Tuesday (23 March 2021) it will be exactly 12 months since the UK was plunged into the first lockdown and life changed completely for everyone overnight as a result of the Covid-19 virus.
The anniversary will be marked with a national Day of Reflection being led by charity Marie Curie culminating in a minute's silence at noon and followed by a 'shine a light' commemoration at 8pm with people being encouraged to light up their doorsteps.
The event is being backed by Inverclyde Council and Inverclyde Health and Social Care Partnership (HSCP) to remember all those who have sadly died during the pandemic.
It is also being used as an opportunity to reflect on the efforts of staff, volunteers and residents to support the local community and each other during these difficult times.
As part of the local commemorations, Greenock's iconic Custom House building and the neighbouring Beacon Arts Centre will be lit up yellow, the colours of Marie Curie.
Councillor Stephen McCabe, leader of Inverclyde Council, said: "Too many lives have been cut short and millions have been bereaved over the past 12 months at the hands of this awful virus across the world.
"Many more have died from causes unrelated to covid but the pandemic has robbed their loved ones from saying a proper goodbye so this is an opportunity to remember all the people we've lost over the last year and their nearest and dearest.
"The national Day of Reflection is an opportunity for everyone to come together to reflect on our collective loss, support those who've been bereaved, and hope for a brighter future."
Coronavirus has claimed the lives of more than 200 people in Inverclyde and hundreds of thousands have died around the world since the first lockdown in March 2020.
Provost Martin Brennan said: "The pandemic has had a profound effect on all our lives but Inverclyde stepped up to the plate and showed are a caring and compassionate place.
"I'd like to thank everyone, from council and health and care staff to the third sector, businesses and individual residents for all their selfless work over the last year.
"We're not out of the woods yet but there is light at the end of the tunnel and if we continue to pull together and follow the rules we will get through this."
The council is currently developing plans for a coronavirus memorial to remember those who have died and been affected by the pandemic and to honour the sacrifices made during the pandemic.
To find out more about national Day of Reflection website and for information about local services and Covid-19 help and support visit our coronavirus pages on this website.