Green jobs funding call
Inverclyde businesses are being urged to tap into national funding to create green jobs.
The first round of funding is now open for applications to help businesses create jobs that contribute to improving the environment and achieving net zero emissions.
The leader of Inverclyde Council has called on local business to check out the fund being run by Scottish Enterprise to help boost jobs in the area.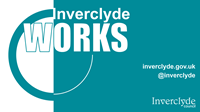 Councillor Stephen McCabe said: "We've recently launched our Inverclyde Works jobs recovery programme and key to that is making sure that there are more jobs available in the local area and more of our residents are ready to apply and take them up.
"While the council's £6m investment will make a difference, we need to all work together to make sure that as much national funding finds its way into Inverclyde.
"That's why I am calling on our local businesses and local business leaders to check out this funding package through Scottish Enterprise to support green jobs in Inverclyde."
Scottish Enterprise has announced that the green jobs funding is now open until noon on Tuesday 24 June 2021.
The green jobs fund aims to support businesses to create and maintain jobs that improve the environment.
The green jobs fund offers grants between £50,000 and £500,000 and can support between 10% and 50% of eligible project costs depending on factors such as company size, location and project activities.
The full details are available on the Scottish Enterprise website and will be published on the Inverclyde Council website as well as being promoted through the council's social media up to the closing date using the hashtag #InverclydeWorks as part of the campaign to boost covid recovery.