Greenock Blitz 80th anniversary
COMMEMORATIONS have taken place to remember the 80th anniversary of the Greenock Blitz.
Provost of Inverclyde, Councillor Martin Brennan, laid a wreath at the blitz memorial in Greenock Cemetery this morning before the Scottish parliamentary election count at the Waterfront Leisure Complex fell silent at 11am as those in attendance observed a local minute's silence.
The commemorations marked 80 years since around 350 German bombers targeted the town on the nights of 6 and 7 May 1941 killing 271 people.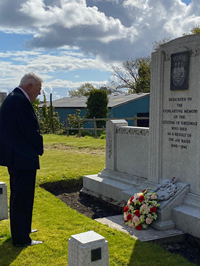 A further 10,200 were injured during the bombings, which also destroyed some 5,000 local homes and caused damaged to nearly 25,000 more.
Events to mark the anniversary had to be scaled back due to restrictions associated with the ongoing coronavirus pandemic.
Provost Brennan said: "While Greenock bore the brunt of the bombings, the events of the sixth and seventh of May 1941 had a devastating impact on communities and families right across Inverclyde.
"Although the Covid-19 crisis won't allow us to mark this dark chapter in our history properly, it's vital that we don't let this milestone anniversary pass without remembering those who were killed, as well as the many thousands more who were affected by this awful tragedy.
"I hope everyone can take a moment today to observe their own moment of solemn reflection as we remember the Greenock Blitz."
Speaking before the local minute's silence at the count, returning officer and Inverclyde Council chief executive, Aubrey Fawcett, said: "The sixth and seventh of May marks the eightieth anniversary of the Greenock Blitz.
"As we count votes for the Scottish Parliament in peacetime, it is important that we do not let these two days pass without acknowledging the tragedy that befell our area during World War Two.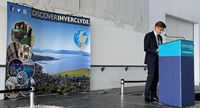 "The raids by German bombers over these two nights targeted the shipyards and berthed ships around the town.
"However, the brunt of the bombing fell on residential areas across the town.
"Over the two nights eighty years ago, 271 people were killed and over 10,200 injured.
"Many of those were children and entire families were lost.
"Nearly 25,000 homes suffered damage and 5,000 were destroyed outright including many within a very short walk of where we stand now.
"As a mark of respect please join me in marking this occasion to hold a local minute's silence to remember those who tragically lost their lives 80 years ago in the Greenock Blitz."