Kilmacolm Library 10th anniversary
BOOKWORMS in Kilmacolm are celebrating the 10th anniversary of the village library.
The facility opened on 31 May 2011 as part of the new Kilmacolm Community Centre, also known as The Cargill Centre, following a £2.2 million restoration of a former Victorian school building which was part-funded by Inverclyde Council.
Over the past decade, the library has welcomed on average 25,500 visitors each year and issued over 160,000 books.
The best read adult novel has been 'Entry Island' by Peter May and Nick Sharratt's 'Shark in the Park!' the most popular children's title.
Since opening in 2011, the library has also hosted 455 Bookbug sessions involving more than 9,000 children and almost 8,600 adults on average.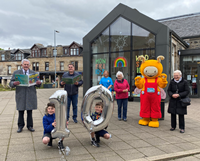 Ongoing coronavirus restrictions unfortunately put paid to a big celebratory event, but library staff did welcome some special guests to mark the occasion, including youngsters Archie Hughes and Sebastian McCracken, who attended Bookbug sessions there as babies and are now library club members, and long term customer Sylvia Megaughin.
Councillor Jim Clocherty, depute leader of Inverclyde Council and convener of education and communities, said: "It's incredible to think that it's been ten years already since Kilmacolm Library first opened its doors.
"The visitor numbers speak for themselves, the library has been established as a key part of the village and a rich resource for people of all ages to enjoy reading, take part in classes, access computers and the internet, and study.
"There's been so many achievements and highlights over the last ten years and I look forward to the next chapter unfolding."
On hand to welcome back some of their regular visitors were Pamela Duncan, library supervisor, Emma Eremin, young people's services librarian, along with another special guest, Bookbug, who was visiting as part of Bookbug's 'Big Splash!' celebrations to mark Bookbug Week 2021 from 17-23 May.
Following the recent easing of national Covid-19 restrictions, people can now resume browsing in most libraries across Inverclyde, albeit on a limited basis.
Bookings are also being taken for PC use and services such as 'Connect and Collect', 'Books on Wheels' and 'Device Advice', which were launched near the start of the pandemic while facilities were closed, are also continuing to support people with access to books and provide help with basic technological troubles.
Councillor Martin Brennan, Provost of Inverclyde and vice-convener of education, said: "In an age of computers, internet, tablets and mobile phones, there's still great pleasure to be had from reading a humble book.
"Of course, libraries these days are much more than just a selection of novels on the shelves, they offer so much more and they are often the heartbeat of the communities they serve, which is evident here at Kilmacolm Library which is such a focal point for the village.
"Congratulations to the staff, customers and all those involved with the library on a successful first decade at The Cargill Centre and all the very best for the future."
The official opening night on 9 June 2011 saw acclaimed Scottish author Alex Gray read from her then latest book 'Five Ways To Kill A Man', which became a bestseller.
In normal times, Kilmacolm Library offers free access to books, newspapers, computers, wireless internet (Wi-Fi) and study spaces.
There are also regular events and activities for adults and children, such as Bookbug, 'crafternoon' sessions, 'zoolab', computer classes, author nights, 'chatty café' and creative writing workshops.
As well as the library, The Cargill Centre also has a café and meeting rooms and a village square outside on Lochwinnoch Road right in the heart of Kilmacolm.
For more information about Inverclyde Council's libraries service, visit www.inverclyde.gov.uk/libraries or search for Inverclyde Libraries on Twitter and Facebook.