United call for long term funding for councils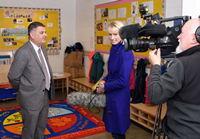 Inverclyde Council Leader has backed a call for Scottish Councils to get longer term funding deals to drive covid recovery and provide certainty for communities.
Councillor Stephen McCabe, Leader of Inverclyde Council, said: "As we start a new term of the Scottish Parliament, it is crucial to our long term recovery that councils get the certainty they need to help drive local covid recovery.
"Just in the past few weeks here in Inverclyde we have agreed additional funding for a range of local interventions including jobs, health and support for business.
"That recovery from the effects of covid and the restrictions to combat it will be at risk if we go back to the approach to local government funding where we don't know year to year what our funding levels are."
The call comes as the Accounts Commission releases its 'Local Government Overview Report' which highlights the work councils have delivered to support and work in partnership with communities across Scotland.
The Accounts Commission also highlights the financial uncertainty councils operate under as an issue that must be addressed.
In the release of the overview report Elma Murray, Interim Chair of the Accounts Commission says, "Councils, communities and their partners have worked incredibly hard to continue to deliver vital services to local people. The stark reality is that some council services won't restart, and some services will have to be delivered differently.
"Underpinning this is the increasingly urgent need to address inequalities throughout Scotland's communities. And for councils this is made more challenging because they continue to operate in a climate of significant financial uncertainty, which must now be addressed."
Councillor Gail Macgregor, COSLA's Resources Spokesperson said that she was delighted with the recognition for Councils and of the need for them to have long term financial certainty in the Local Government Overview Report from the Accounts Commission released today (Thursday).
Councillor Macgregor said: "There is not a lot to add to the comments from the Accounts Commission today apart from to say that I am absolutely delighted with what is a true and accurate description of the extraordinary effort of Scottish Local Government – as recognised in the report. Significantly, the report also highlights that funding certainty beyond one year would allow for longer term financial planning for the benefit of communities and we welcome this.
"As the report states, Scotland's councils reacted quickly, working alongside communities and partners, to address the unprecedented challenges created by Covid-19. Our staff always do their best for Communities – delivering for them is what we do.
"The report is also right to point out, as COSLA has often said, that many challenges remain significant, and these are made more urgent by the multiple impacts of Covid-19 on communities and services.
"However no one is better placed to deal with these challenges than Scotland's Councils and as always we will rise to the challenge.
"In conclusion today's report is also very clear that local authorities require long term financial certainty – this is to also be welcomed and would enable us to do an even better job than the one we are rightly being praised for today. Three extracts from the report sum up a lot of what COSLA have been asking for from the Scottish Government in terms of our funding these are outlined below."
There is rarely financial certainty for councils beyond the current financial year. For many years the Commission has reported on the importance of long-term financial planning for our councils and they need the certainty of a multi-year financial settlement to do this. Without this Scotland is faced with a clear risk to the financial sustainability of our councils. During the last few years we have seen increasing amounts of funding provided by the Scottish Government being ring-fenced for specific purposes and this limit on local flexibility has also emerged through the funding arrangements for Covid-19.
A key issue will therefore be reaching agreement between the Scottish Government and COSLA to achieve a funding model for local government that targets and supports those most in need.
Furthermore, funding announcements have been frequent but not regular, and in some cases specific conditions are attached. This has created an additional administrative burden for the Scottish Government and councils arising from awarding and accepting grants and completing the related reporting requirements.
NOTE TO EDITOR:
Audit Scotland Press Release: Councils and communities worked well together, but impacts of Covid-19 are unequal - https://www.audit-scotland.gov.uk/news/councils-and-communities-worked-well-together-but-impacts-of-covid-19-are-unequal
Accounts Commission Report: Local government in Scotland Overview 2021: https://www.audit-scotland.gov.uk/report/local-government-in-scotland-overview-2021