Wildfire warning
FIRE service officials are warning of a very high risk of wildfire across all parts of Scotland, including Inverclyde.
The Scottish Fire and Rescue Service (SFRS) have urged people who live within or who may enter rural environments to exercise caution.
The 'very high' warning – released in conjunction with the Scottish Wildfire Forum (SWF) – has been in place since Sunday (30 May) and remains until Tuesday (1 June).
Wildfires have the potential to burn for days and devastate vast areas of land and wildlife; and threaten the welfare of nearby communities.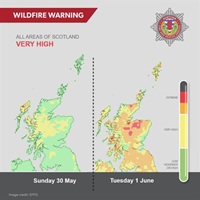 Councillor Tommy McVey, chair of the Inverclyde Council police and fire scrutiny committee, said: "At long last it would seem summer has finally arrived with the nice weather we've been enjoying over the last few days.
"But with spells of warm, dry weather comes the heightened risk of fire and we must be extra careful not to do anything that might lead to a fire breaking out.
"In these conditions, fire can spread rapidly and poses a huge danger to the environment, wildlife, homes and people themselves, as well as firefighters who put themselves at risk to keep people safe.
"I urge people to please be extra vigilant with anything involving a naked flame to help protect ourselves, protect each other and protect Inverclyde."
Area Commander Bruce Farquharson, the SFRS wildfire lead, said: "We are asking the public to exercise extreme caution and think twice before using anything involving a naked flame.
"Many rural and remote communities are hugely impacted by wildfires, which can cause significant damage.
"Livestock, farmland, wildlife, protected woodland and sites of special scientific interest can all be devastated by these fires - as can the lives of people living and working in rural communities.
"These fires can also have a hugely negative impact on the environment and the release of greenhouse gas emissions into the atmosphere."
Human behaviour can significantly lower the chance of a wildfire starting, so it is crucial that people act safely and responsibly in rural environments, and always follow the Scottish Outdoor Access Code.
For more fire safety information, visit www.firescotland.gov.uk.