Partner press release: CVS Inverclyde Prepares to Host Third Sector Conference with Brilliant Line-Up
CVS Inverclyde's third sector conference is on the horizon with a line-up of prominent local figures including key note addresses from Inverclyde Council CEO, Louise Long, and Director of public Health NHS Greater Glasgow and Clyde, Dr Linda de Caestecker.
Everyone in Inverclyde is invited to join us online on Thursday 25 November.
Registration is free and open on Eventbrite: https://www.eventbrite.co.uk/e/188446678087
Broadcast legend Shereen Nanjiani will be our host.
We will also be hearing presentations from the Corra Foundation and Carnegie UK. The conference includes breakout workshops: one on funding with the National Lottery and The Henry Smith Charity; CVS Inverclyde community link workers will be running a scenario-based workshop; and CVSI colleagues will also be running a workshop on volunteering in Inverclyde.
CVS Inverclyde CEO, Charlene Elliott, said: "We are hugely excited about this year's conference and we have an enviable line-up. This is a great opportunity for Inverclyde's third sector to come together for a day of future thinking.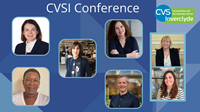 "Inverclyde's third sector has gone above and beyond to support the most vulnerable people in our communities over the past 18 months. Similarly, we have been proud to connect and strengthen Inverclyde's third sector in our role as Inverclyde's third sector interface.
"With this in mind, we have themed our conference future thinking as we want to look forward to the opportunities that lie ahead: opportunities to grow, collaborate and continue to improve the lives of people in Inverclyde.
"As we move from restrictions to recovery, the role of the third sector will continue to be critical as we rebuild society in a way that is fair, inclusive and focused on wellbeing.
"We hope our conference can be a starting point for this and begin building momentum towards a positive future for Inverclyde.
"I want to say a huge thank you to all guest speakers and presenters for taking the time to come along and contribute to our conference."
Louise Long, chief executive of Inverclyde Council, said: "We have such a vibrant and varied third sector here in Inverclyde and we're delighted to support the excellent work they do alongside CVS Inverclyde and other partner organisations.
"It's that strong, partnership working that makes Inverclyde so unique and makes it such a caring and compassionate place to live, work and visit.
"That was never more evident than during the heights of the coronavirus pandemic when the public, private and third sectors united like never before to support our communities during arguably the most difficult periods in our lifetimes.
"We must now concentrate on the future and our continued recovery from Covid-19 and I look forward to speaking at the CVS conference about the important roles we can all play by working together for the benefit of Inverclyde and the communities in which we serve."
CVS Inverclyde was initially set up in 1996 (then called Inverclyde Voluntary Sector Forum) by local voluntary organisations to support them and to represent their interests.
In 2001 IVSF joined the national network of CVS (Council for Voluntary Service) organisations and was re-named as CVS Inverclyde.
Now it is the third sector interface for the Inverclyde local authority area tasked with supporting, strengthening and connecting third sector organisations in Inverclyde. The organisation is run by a Board of trustees who are elected from its members, who are third sector organisations and people who live, work or volunteer in the Inverclyde area.
For more information on CVS Inverclyde, visit: www.cvsinverclyde.org.uk