Partner press release: Library service honoured
The Scottish Library and Information Council (SLIC) has crowned East Lothian Council Library Service as winner of the award, with Inverclyde Library Service being highly commended
East Lothian and Inverclyde library services have been recognised as exceptional services by the Scottish Library and Information Council (SLIC), with East Lothian being awarded the inaugural 'The SLIC Award 2021'.
The award recognised the talent, innovation, and achievement of library teams throughout Scotland during the pandemic. It welcomed entries from all SLIC members, including university and specialist libraries, and presented an opportunity for services to showcase staff-driven initiatives which have greatly enhanced user experience.
The East Lothian service won the award for its sustained, imaginative, and ambitious response to the challenges posed by the COVID pandemic. The judges were impressed by the verve and commitment shown by the East Lothian team in understanding the needs of their local communities during the pandemic, and applauded the passion and creativity with which they met these needs. The service displayed a thoughtful and comprehensive set of initiatives, including a pop-up library, a range of new digital activities, bespoke support for vulnerable library users, and dedicating library books to children born during the pandemic.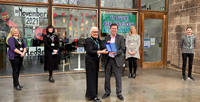 Inverclyde Library Service, as the runner up, has been highly commended for its focus on digital support. In its entry, the judges saw a service that responded to the needs of their community by offering a range of digital solutions, skills training, and an extensive use of online events to keep the community connected and engaged. The judges felt this entry demonstrated a clarity of thinking about how digital technology can enhance library services and a strong sense of purpose in creating a robust digital service.
Professor Ian Ruthven, Chair of the Board of Trustees at SLIC and Chair of the Award Judging Panel said,
"Recognising libraries for outstanding work is an important part of our role at SLIC, and the reason 'The SLIC Award' was established. The standard of entries was high, and demonstrated just how much effort has been made by staff and services over the last 19 months to ensure users were still able to access library resources.
"We know that isolation and loneliness are growing problems, and our library services have worked hard to tackle this throughout the pandemic.
"East Lothian Council Library Service is a hugely deserving winner of the inaugural SLIC Award for its imaginative and ambitious response to the challenges of the pandemic. I want to also congratulate Inverclyde Library Service for being highly commended; the library staff there should be very proud of their achievement."
Eileen Morrison, Service Manager – Customer Services, East Lothian Council, said:
"Staff within the Library and Customer Services Team have adapted extremely well and have worked well with other services within and outwith the council which has enhanced our partnership working in order to develop services within our local community. We are extremely proud to gain this award in what has been an extremely challenging time for everyone."
"We focussed on what services the library service could provide outwith a library building and we will continue to look at providing services to those who cannot or do not want to come into a library building going forward.
"When we were not able to have libraries open during the first lockdown, staff worked in the Children's Hubs or supported those individuals who were shielding by making calls to them. When we were able to reopen our libraries, and incrementally, because there was no vaccine at that stage, we introduced a click and collect system where customers could come and collect books from library foyers. Fortunately, we already offered a wide range of eResources but we provided additional digital support with online bookbug sessions, virtual quizzes, a weekly bulletin on different books to read on a theme, assisted customers in applying for blue badges and travel passes online.
Councillor Jim Clocherty, depute leader of Inverclyde Council and convener of education and communities, said:
"This is worthy recognition for our libraries service for all their hard work and imaginative thinking during the heights of the pandemic to ensure important services were maintained and to keep customers engaged during the various lockdowns when buildings were closed and we all had to stay at home.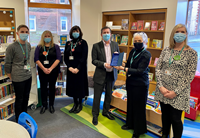 "As well as making sure our residents could still access and enjoy books while stuck in the house for long periods, our staff realised the growing importance placed on digital technology to keep us all connected for work, to keep in touch with friends and family or to keep us entertained and they offered much-needed help and support for those who were new to the world of the internet and digital devices or who were not as tech-savvy.
"Well done to the team for being honoured with this award, which reaffirms Inverclyde's position at the forefront of library services in the country."