Stay safe this Bonfire Night
AUTHORITIES in Inverclyde have joined forces to urge local people to be careful and stay safe this Bonfire Night.
Senior figures from Inverclyde Council, Scottish Fire and Rescue Service (SFRS) and Police Scotland are encouraging residents to be wary of the dangers of fireworks and bonfires ahead of Guy Fawkes Night on Friday (5 November 2021).
People are being asked to think twice before organising or attending a display to minimise the risk of someone being seriously injured or property badly damaged.
Councillor Tommy McVey, convener of Inverclyde Council's police and fire scrutiny committee, said: "We understand that people will want to celebrate Guy Fawkes Night but fireworks and bonfires pose great risks to people and property and can lead to serious injury, damage and even death.
"That's why it is important residents think twice and think very carefully before organising or going to an event and heed the safety advice to keep themselves and their family and friends safe.
"I also urge people to familiarise themselves with the laws around fireworks and bonfires so they know what is allowed and what is not and to be mindful and respectful of others, including neighbours and households with pets."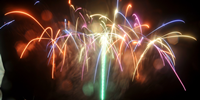 The fire service advises that bonfires and firework displays should be kept well away from buildings, sheds, trees, hedges, fences, power lines and communications towers.
David McCarrey, Scottish Fire and Rescue Service Area Commander for East Renfrewshire, Renfrewshire and Inverclyde, said: "We are asking the public to consider the risks of hosting a private event involving either fire or fireworks.
"Every year people are injured by bonfires and fireworks and admitted to hospital - and children are particularly at risk. If things go wrong and we have to attend it can also put pressure on our response to other emergencies.
"We are therefore strongly encouraging anyone who is considering having a private event to think again. Those who choose to do so should familiarise themselves with the fireworks code and fire safety guidance. Do not take risks because the consequences can be devastating."
It is illegal for anyone under the age of 18 to possess fireworks and to throw or set them off anywhere other than a private garden.
The law also forbids the use of fireworks before 6pm and after 11pm in the evening on any day except 5 November when this extends to midnight.
Chief Inspector Paul Cameron, Area Commander for Inverclyde, said: "Bonfire Night is usually an extremely busy night for police in Inverclyde and we're expecting a high number of calls on and around 5 November.
"Local policing plans are in place across Inverclyde, and we are also able to call on specialist and national capabilities, as part of Operation Moonbeam, Police Scotland's national response to fireworks-related disorder. This would include any incidents of violence against the emergency services, which will absolutely not be tolerated.
"We hope these resources aren't needed locally, and ask everyone to act responsibly and keep themselves, their families and their communities safe."
For advice on how to minimise risks on Bonfire Night visit www.firescotland.gov.uk/your-safety/outdoors/bonfire-safety/ and for firework safety information, including the fireworks code, log on to www.firescotland.gov.uk/your-safety/outdoors/fireworks-safety/.
Look out for the #DoYouKnow hashtag on social media for advice and updates.