Community groups celebrate share of £260k funding
ORGANISATIONS across Inverclyde are celebrating a share of more than £260,000 to support their work in communities throughout the district.
Parklea Branching Out in Port Glasgow is one of 68 groups which is benefiting from a financial boost from the council's Community Grants Fund.
The horticultural charity has been awarded £5,000 towards the creation of new covered walkways and improved accessibility at its base next to Parklea playing fields.
The development will support the group's range of growing and outdoor activities for people with additional support needs and the wider Inverclyde community.
The Community Grants Fund was established earlier this year to combine the former Grants to Voluntary Organisations (GTVO), Under-19s Sports and Community Hall Waivers funding pots provided by the council.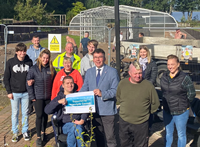 The first round of funding that was approved by councillors last month will see just under £263k shared among a total of 68 groups to support a wide range of sporting, musical, cultural, religious and voluntary activities across Inverclyde.
Councillor Graeme Brooks, chair of the council's grants sub-committee, said: "Groups such as Parklea Branching Out do such important and worthwhile work supporting people of all ages and abilities with training, work experience and employment opportunities all year round.
"That's why it's crucial we, as a council, lend a helping hand to these organisations to allow them to continue making such a vital contribution to communities throughout Inverclyde and also to grow and develop further.
"I look forward to seeing how Parklea Branching Out and all the other charities, groups, clubs, teams use their respective grants for the benefit of the residents in the areas in which they serve and I wish them every success for the future."
The Port Glasgow charity was established in 1997 and uses horticulture to provide training, work experience, supported employment, and recreational and social facilities for a variety of people, including young people and adults with additional support needs.
Sharon Gemmell, manager of Parklea Branching Out, said: "Our Community Grants award has been received with much appreciation and will contribute towards the development of Parklea Branching Out's new covered walkways and improved accessibility to support our range of community growing and covered outdoor activities.
"We are very grateful for the support received from Inverclyde Council's Community Grants Fund and for recognising the work of our local charity and the impact that this has on lives of young people and adults with additional support needs and our wider community of Inverclyde."
As well as working with adults and children with learning and/or physical disabilities, the charity also supports people with mental health problems, school leavers, young and long term unemployed, elderly groups and community groups.
Parklea also provides training to SVQ level in horticulture and employability programmes.
For more information about the charity, visit http://parkleaassociation.org.uk/, and log on to www.inverclyde.gov.uk/news/2021/sep/community-groups-share-m for a full list of grants and how to apply for funding.