Girlguiding tribute is tree-mendous
GIRLGUIDING in Inverclyde has been honoured with a tree and plaque in the heart of Port Glasgow town centre.
The cherry blossom has been planted near to the Endeavour sculpture to replace the same species that was recently removed from the front of Port Glasgow Library.
The original was installed in 1953 to commemorate the Queen's coronation but had reached the end of its natural life and has been replaced, along with a new plaque, by Inverclyde Council.
The location has also been changed to accommodate the recent refurbishment of the Port Glasgow Municipal Buildings, which houses the library and offices.
Councillor Jim Clocherty, Inverclyde Council depute leader and vice-convener of environment and regeneration, said: "We've worked closely with the guides to ensure the continuation of this important commemoration for many more years to come.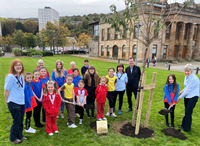 "They chose a like-for-like tree – a cherry blossom – and we've also installed a new plaque alongside it and they take pride of place here in the heart of Port Glasgow.
"We're fortunate to have a wealth of fantastic community and voluntary organisations like the Girl Guides so it's important that we continue to support them financially and practically.
"It's delighted that along with this new commemoration, the Girlguiding Greenock Division was also recently awarded a £5,000 grant by the council's new Community Grants Fund, which I'm sure they will put to good use supporting what is a local institution."
The new cherry blossom tree is one of two planted at the location.
Wilma Carroll, Girlguiding Greenock Division commissioner, said: "Girlguiding Greenock are grateful to the council for their continued support of our organisation.
"The original tree was much loved and our members were sad when it reached the end of its life.
"We're delighted to have worked with the council to replace the tree in a much more prominent location.
"We'd encourage our members to visit the new tree and look forward to sharing their stories and photos on our social media channels.
"Thanks to Cllr Clocherty and also Myra and Agnes from Port Glasgow New Parish Church for joining us to start the next branch of the Girlguiding tree's story."
For more information about Girlguiding in Inverclyde, visit www.girlguiding.org.uk.