Learn online for free
AN online learning platform has been launched by Inverclyde Council offering residents the chance to pick up skills in everything from fraud prevention to money management for free.
The local authority's community, learning and development (CLD) service has set up a dedicated website hosting a suite of new and existing courses covering a wide range of subject areas.
The internet-based platform means people can take part in their own time, at their own pace and in a location that suits them best with support from qualified staff as and when required.
Among the new courses on offer are an SQA Level 5 Mental Health and Wellbeing Award, Introduction to Food Hygiene and Mindfulness.
They will be run alongside existing classes covering areas such as literacy, digital skills and employability and have been developed with support from partner organisations such as Inverclyde Health and Social Care Partnership (HSCP), the Scottish Association for Mental Health (SAMH) and Skills Development Scotland.
Councillor Jim Clocherty, Inverclyde Council's convener of education and communities, said: "With so many things online now and a surge in internet use during the various lockdowns for work, education and entertainment, these new online courses will be accessible to so many people.
"The courses available are wide-ranging and will be hugely beneficial to residents of all ages across Inverclyde.
"I encourage anyone who is interested in learning new things, whether to improve your employment chances, further your career, or just for fun, to sign up."
The new website – www.cldinverclyde.co.uk – was officially launched at the council's iYouthZone in Greenock's Nicolson Street with the help of volunteer Gordon Ewan and learner Barry Taft.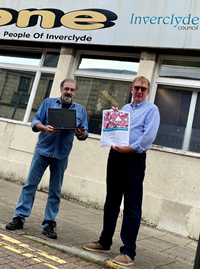 Retired Wemyss Bay man Gordon, 59, who has been developing a course on fraud and scams, said: "I started off as a volunteer in 2019 with the team and was supposed to be involved showing people how to use smart devices at the Inverkip Hub but with lockdown everything shut and went online and we were asked for ideas for classes.
"I suggested home cooking and then came up with an idea for fraud and scam prevention course and been developing that ever since.
"People were talking about fraud and scams at the volunteers group because of all the texts and emails going about so we put some ideas together and it grew arms and legs.
"It will be good to see it come to life and it will be interesting to see how it evolves as people get into it."
Learner Barry, 60, from Greenock, highly recommends an online course having completed several himself and gained skills in areas such as IT and personal finance.
He said: "I started doing classes about a year before lockdown and worked with CLD at the library with computing skills.
"At my age you don't know how to turn them on cos you're not brought up with them.
"I didn't have a clue about computers – even now I'm still learning.
"I've also been getting help with different apps for my phone like banking to look after my money.
"Before that I wouldn't have known how to work an app and during lockdown, for example, I'd have to come into town for the bank.
"Now I can look on the app and see how much I've got. It's helping me work out my money better.
"I've found these classes very useful and so beneficial.
"I'm now in the library again doing things online and I've just started the new mindfulness course."
For more information on the courses that are available and to sign up to take part for free, visit www.cldinverclyde.co.uk.