Merchant Navy Day 2021
PEOPLE who work at sea are being remembered to mark Merchant Navy Day 2021.
The event, run by The Seafarers' Charity, takes place on 3 September each year and individuals and organisations are encouraged to fly the Red Ensign.
The flag is flown each year by Inverclyde Council and is currently aloft the flagpole at Clyde Square outside the Municipal Buildings in Greenock.
Merchant Navy Day honours those who kept Britain afloat during both World Wars and celebrates the dependence on modern-day merchant seafarers who are said to be responsible for more than 90 per cent of the UK's imports.
Provost Martin Brennan said: "The Merchant Navy is often regarded as the 'forgotten and invisible' navy community so this special day of recognition ensures these brave and hard-working people are remembered and celebrated.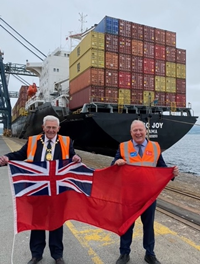 "This annual event is especially significant for Inverclyde owing to our maritime heritage and ongoing position as a major port for imports, exports, domestic operations and cruise ships through Greenock Ocean Terminal.
"Merchant Navy Day allows us all to take a moment to honour the sterling efforts of the people who work and have worked at sea."
Provost Brennan joined Jim McSporran, director of Peel Ports Clydeport, at Greenock Ocean Terminal to mark Merchant Navy Day 2021.
Mr McSporran said: "We are proud to support this special day honouring the people who keep the UK's imports and exports flowing.

"We are a trading nation and owe them a great debt."
The Red Ensign has been recognised worldwide since 1854 as the flag of the British Merchant Navy and is flown on 'UK-flagged' vessels of all sizes.

The date of 3 September was adopted as Merchant Navy Day and sees flags flown ashore at locations across the country.