Peatland restoration study
A STUDY into peatland restoration in Inverclyde to help reduce harmful carbon emissions will be carried out following a successful bid by the council.
The local authority has secured support from the Peatland Action project, part of national body NatureScot – formerly Scottish Natural Heritage, for an investigation of council-owned land to see what can be done.
Consultants have been appointed to carry out a feasibility study of land at Garvocks/Dowries and Hardridge, which will be done with permission of tenants who farm these areas.
Peat is partially decayed vegetation built up over a number of years that is found in cool, usually waterlogged areas and help lock in carbon, as well as being habitats for wildlife.
Their use as valuable carbon stores means peatlands are now widely regarded as playing a key role in addressing the climate emergency, biodiversity loss and achieving net-zero emissions.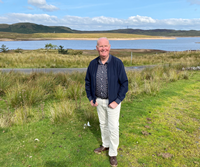 Councillor Michael McCormick, Inverclyde Council's convener of environment and regeneration, said: "It's great that in the run-up to the COP26 summit in Glasgow in November that we've been successful in securing support for a feasibility study into peatland restoration.
"We're in a climate emergency and we must do all we can individually and collectively to reduce carbon emissions and support initiatives that will help improve the environment.
"Peatlands in good health can be valuable carbon stores which will contribute positively to reducing levels of CO2 for the benefit of residents and nature and that's why it's important that we examine more closely ways in which we can improve and indeed restore existing peatland areas in Inverclyde."
The consultants carrying out the study in Inverclyde will be managed and funded by Peatland Action with input from the council and tenant farmers.
As well as their positive impact on the environment, peatlands can also have flood management benefits.
For more information about peatland restoration, visit www.nature.scot/climate-change/nature-based-solutions/peatland-action-project.