Recycle Week 2021
HOUSEHOLDERS in Inverclyde are being encouraged to rinse and recycle empty bottles of detergents and hand sanitisers following a surge in the use of cleaning products during the coronavirus pandemic.
The message from Inverclyde Council comes ahead of Recycle Week, which starts on Monday 20 September 2021.
Residents are being reminded about what can and cannot be popped in their household blue bins to encourage more people to recycle and cut down on waste.
Councillor Michael McCormick, Inverclyde Council's convener of environment and regeneration, said: "As we look ahead to the COP26 summit in November and ways to tackle the climate emergency, small acts like recycling have never been more important.
"We've all been cleaning our hands and homes more than ever during the pandemic so it's important that people are aware that things like empty bottles of hand sanitiser, hand wash and detergents can all be popped in our blue bins and recycled along with traditional items such as card, paper, plastic containers and empty bottles of general toiletry items.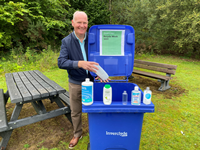 "But things like single-use face masks, aprons or tissues should be disposed of safely in black/grey bins along with other general household waste.
"If we all continue to do our bit to cut down on waste and recycle where we can then it will go a long way towards the response to the environmental emergency."
Residents are also being encouraged to recycle unwanted or out-of-date food using the green household food waste containers, which are collected every week.
Garden waste can be disposed of in brown bins with the purchase of an annual permit.
These permits are valid from March-November each year and cost £31 regardless of when it is bought.
Glass can be taken to the neighbourhood recycling points or to either of the council's recycling centres at Pottery Street in Greenock and Kirn Drive in Gourock where materials such as textiles, wood, scrap metal and batteries and larger household items can be recycled.
Textiles can also be recycled at most neighbourhood recycling points or donated to a local charity shop.
As of 1 October 2021, the recycling centres will move to winter opening hours of 8am to 6pm seven days a week with last entry 10 minutes before closing.
For more information visit www.inverclyde.gov.uk/recycling or phone the recycling helpline on 01475 715901.