Class act for nearly 50 new teachers
NEARLY 50 new teachers are preparing to head back to classrooms across Inverclyde this week as they begin their careers in education.
Inverclyde Council has welcomed 48 newly-qualified teachers (NQTs) on board for the start of term on Thursday.
Of the 48 new-starts – the same number as last year, which was one of the highest intakes on record – there will be 29 working in primary and 19 in secondary.
The NQTs were given a warm welcome at their induction day at Inverclyde Academy on Monday 15 August 2022 ahead of pupils starting on Thursday 18 August 2022.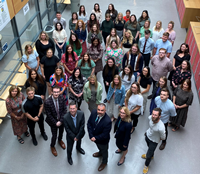 Councillor Jim Clocherty, Inverclyde Council's convener of education and communities, said: "This is a milestone moment for our newly-qualified teachers as they prepare for the start of their teaching careers.
"After all the hard work and sacrifices to get to this stage they will now be eager and excited to get going when the pupils return on Thursday.
"Many of the NQTs are products of our locals schools, which is quite apt and a ringing endorsement of the Inverclyde education system.
"Some are also heading back to their former schools to teach, which will be extra-special.
"Our schools estate is second to none and arguably the best in the country but modern teaching facilities are nothing without talented staff to help our young people realise their full potential.
"I wish all our NQTs and returning education staff the very best of luck for the start of term this week."
Having recently qualified, the NQTs will now begin a year-long probation at schools across Inverclyde.
Staff will head to the classroom on Tuesday (16 August 2022) for two in-service days before pupils start the new term on Thursday.
To see what jobs are available within the council, including in education, and the health and social care partnership (HSCP), visit www.myjobscotland.gov.uk/councils/inverclyde-council/jobs and look out for #InverclydeWorks on social media.