Lifesaving kits for licensed premises appeal
LICENSING officials are encouraging premises in Inverclyde to buy a lifesaving 'control the bleed' kit.
Inverclyde Council earlier this year became the first local authority in Scotland to team up with charity The Daniel Baird Foundation to purchase several kits for public access.
They are kept in vehicles used by the council's community wardens and are available to emergency services and others to access if required should someone suffer a serious cut.
Kits contain essential medical supplies designed to reduce blood loss and can save lives in the vital minutes before medical attention arrives.
Now the Inverclyde Licensing Board has written to premises, including pubs, clubs and restaurants, to raise awareness of the kits and encouraging licensees to think about purchasing one for their establishment.
Councillor Graeme Brooks, chair of the board, said: "Control the bleed kits really can be the difference between life and death in the event someone suffers a catastrophic injury.
"Those first few moments after someone is hurt are vital and having as many of these kits readily available throughout Inverclyde can help avoid tragedy.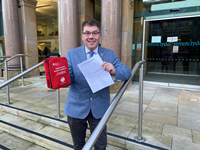 "That's why colleagues on the licensing board agreed that it is important to not only raise awareness of these lifesaving kits but to encourage licensed premises to consider buying one and we hope there will be a positive reaction from licensees."
Members of the council's education and communities committee approved the purchase of a number of kits at a meeting in June 2022 and also asked that the licensing board consider contacting licensed premises about them.
It followed a motion to explore the idea by Cllr Brooks, which was agreed by full council earlier this year.
As well as buying handheld kits, The Daniel Baird Foundation also donated a control the bleed cabinet for use by the Inverclyde community and this will be installed in a suitable location at a later date.
The foundation was set up by Lynne Baird MBE in memory of her late son Daniel, 26, who died after suffering a catastrophic bleed in 2017.
Lynne was awarded an MBE earlier this year for her campaign work.
A percentage from the sale of each kit is donated to the charity.
The rollout of the kits by the council has been endorsed by local emergency service partners.
The text of the licensing board letter to licensed premises is below.
For more information about control the bleed kits, including how to purchase them, visit www.controlthebleed.org.uk.
Dear Premises Licence Holder

Control The Bleed Kits

I write to advise that the Inverclyde Licensing Board at its meeting on 26 October 2022 considered a remit from the Council's Education & Communities Committee requesting that Licensing Board Members consider whether it would be appropriate to attach either a condition or recommendation to a Premises Licence that each licensed premises in Inverclyde should have a Control The Bleed Kit upon their premises.

At the Inverclyde Licensing Board's meeting on 26 October 2022, Members unanimously agreed that it would be appropriate for the Clerk of the Licensing to write to all licensed premises in Inverclyde, with a recommendation that all licensed premises should acquire and have a Control The Bleed Kit on their premises, not only those premises which have late night opening hours.

At the meeting of the Education & Communities Committee on 14 June 2022, the Committee approved the purchase of kits for the Community Warden Service and that a promotional campaign to promote the purchase and use of Control The Bleed kits across Inverclyde be approved.

The Licensing Board welcomes the measures which have already been taken by the Council to promote the use of these kits throughout Inverclyde, which potentially could prevent injured people from bleeding to death.

The Licensing Board recommends that you give consideration to purchasing a kit.

Yours faithfully

Clerk of Board