Gourock recycling centre improvements
A RECYCLING centre in Gourock will close this weekend and move to a temporary home to allow for a £150,000 revamp.
The Kirn Drive facility will shut on Sunday 30 January 2022 and will relocate to nearby Craigmuschat Quarry while work is carried out.
Inverclyde Council is investing around £155k to expand and upgrade the existing recycling centre.
The Kirn Drive site will be closed for around nine months while extensive work is carried out, including disconnection and re-connection of water and utilities supplies, demolition work, laying of foundations, fuel tank decontamination, fuel tank removal and ground filling, among other things.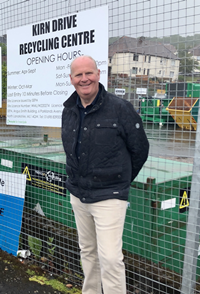 During that time residents will still be able to use Craigmuschat Quarry from week beginning Monday 7 February 2022 to recycle materials that would normally be taken to Kirn Drive.
In the meantime, the Pottery Street civic amenity site in Greenock is open as normal.
Councillor Michael McCormick, Inverclyde Council's convener of environment and regeneration, said: "The upgrade and expansion to the Kirn Drive recycling centre will give the people of Gourock and surrounding areas improved facilities to continue to recycle a variety of materials.
"We've invested heavily in our environmental services facilities in recent years, including the £1 million transformation of the Pottery Street civic amenity site in Greenock.
"I'm delighted that Kirn Drive recycling centre is now being upgraded and, along with Pottery Street, will support resident to recycle a variety of materials and liquids and maintain our proud recycling reputation."
Members of the environment and regeneration committee agreed to the Kirn Drive work at a meeting in August 2021.
For more information about recycling visit www.inverclyde.gov.uk/recycling.