Green light for 20mph idea
COUNCILLORS have agreed in principle to introducing 20mph zones in key residential areas throughout Inverclyde to help improve road safety.
Members of the environment and regeneration committee made the decision at a meeting last week.
Councillors agreed to the principle of delivering 20mph speed restrictions within key pedestrian areas within town centres and villages and in the vicinity of schools.
They also voted in favour of delivering part-time speed limits in school locations in 2023/24 following assessments of each area, to develop a new scheme to score and rank other residential roads where a 20mph restriction could be introduced, and for a report to be brought forward looking specifically at what could be done in Albert, Ashton and Cloch roads in Gourock.
Council officers put forward suggestions following an extensive study, which included traffic studies and discussions with road traffic police, in response to a motion from Councillor Chris Curley for officials to outline options for implementing 20mph speed limits in Inverclyde.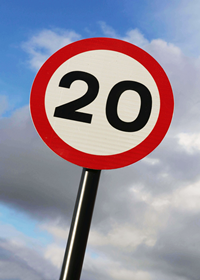 All proposals will be subject to final approval, necessary traffic regulation orders and will be subject to the availability of funding.
Councillor Michael McCormick, Inverclyde Council's convener of environment and regeneration, said: "Anything that can improve road safety should be looked at and I'm pleased that we will look more closely at locations that might benefit from a 20mph zone, particularly in our town and village centres and near schools where we tend to see the largest volume of pedestrians and vehicles.
"There are already several mandatory and advisory 20mph zones throughout Inverclyde, mostly in and around schools, and they play an important role in encouraging drivers to slow down and beware of their surroundings.
"Reducing speed, even by a small amount, can really be the difference between life and death and can also minimise the risk of pedestrians and drivers being seriously injured or hurt."
There are currently seven areas across Inverclyde that have mandatory 20mph speed limits or zones.
These are: Branchton; St Patrick's Primary; Notre Dame High; Lady Alice Primary; Inverclyde Academy, all Greenock; Port Glasgow Community Campus; and Broadfield Avenue in Port Glasgow.
There are other 'Twenty's Plenty' advisory zones.
During the pandemic, a temporary 20mph was installed through Gourock Town Centre to support users of the town centre and to assist with pedestrian movements.
The report on the implementation of 20mph speed limits in residential areas is available online at www.inverclyde.gov.uk/meetings/meeting/2411 and the environment and regeneration meeting can be watched on the council's YouTube channel at www.youtube.com/inverclydecouncil.