Have your say on Inverclyde budget
INVERCLYDE Council is hosting virtual listening events and launching a survey for residents to make their voices heard on savings areas and spending priorities over the next 12 months.
The local authority is facing an estimated £2.5 million funding shortfall during the 2022/23 financial year and the public are being asked how they believe the gap should be bridged.
Feedback from six online community listening sessions across each of the Inverclyde localities and the survey will be used to help to inform decision-making when it comes to setting next year's budget.
A full budget consultation exercise took place in 2019 prior to the coronavirus pandemic covering a three-year period and it is recognised that this is still valid, however the impact of Covid-19 and changing priorities as a result may have affected views.
Councillor Stephen McCabe, leader of Inverclyde Council, said: "With local government funding being squeezed once again we are faced with yet more tough choices when it comes to the budget.
"None of us, councillors, officials and indeed members of the public, want to have to take these tough decisions that could see services reduced and/or charges increased but we are legally obliged to set a balanced budget and it's important that residents are able to have their say on how we do that.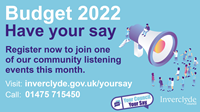 "It is residents, like myself and my council colleagues, who are ultimately affected by spending and savings decisions so I encourage as many people as possible to take part in the community listening events and to complete the survey to ensure their voices are heard and priorities met."
The online listening sessions are scheduled to take place at 6.30pm on the following dates:
Greenock South/South West – 13 January 2022
Inverkip/Wemyss Bay – 17 January 2022
Greenock West/Gourock – 18 January 2022
Port Glasgow – 19 January 2022
Greenock East/Central – 20 January 2022
Kilmacolm/Quarrier's Village – 24 January 2022
For more information and to take part visit www.inverclyde.gov.uk/yoursay.