Outdoor cinema sequel this weekend
THE sequel to a successful free outdoor cinema event in Greenock takes place this weekend.
Pictures in the Park returns to Battery Park on Saturday and Sunday (2 and 3 July 2022) with three screenings each day.
It is being organised by Inverclyde Leisure in partnership with Inverclyde Council as part of the Summer of Fun 22 programme.
The line-up of films on Saturday includes Trolls, Moana and Back to the Future with Sing 2, Encanto and Spider-Man: No Way Home on the cards for Sunday.
There will be screenings in the morning, afternoon and evening and there will also be live entertainment throughout the day.
Entry is free and on a first-come basis with deck chair and bean bag seating being provided.
There will also be café facilities available.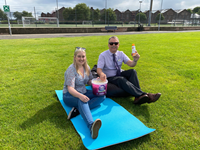 Councillor Natasha McGuire, depute leader of Inverclyde Council and vice-convener of communities, said: "Pictures in the Park was hugely successful last year with families and people of all ages enjoying watching a film in the great outdoors at Battery Park.
"It's fantastic to be putting on something that's accessible for families and that is free of charge to support families during the summer school holidays, especially in the midst of the cost of living crisis we are currently in.
"It's great that the council and Inverclyde Leisure have teamed up for a re-run of the Pictures in the Park event this weekend with new movies to choose from and I look forward to seeing the park full again with film fans on Saturday and Sunday."
Ian Dyer, Operations Manager from Inverclyde Leisure, said: "We are delighted to be delivering this great event in partnership with Inverclyde Council as part of the Summer of Fun 2022."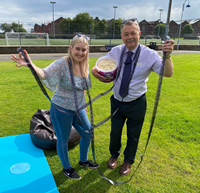 Pictures in the Park is one of a series of summer events being organised by Inverclyde Council to support families and keep children and young people entertained during the holidays, including affordable childcare hubs, playschemes, day trips, swimming, climbing and gym access.
Activities are taking place across local leisure centres, schools, libraries and other community facilities.
A lot of activities are free or subsidised with a small charge to take part.
For more information about Pictures in the Park and other activities, visit www.ilgetactive.com/summer-timetable/.
Details about events being organised by the council's active schools and youth work services are available at https://inverclyde-council.class4kids.co.uk and for activities from the council's libraries service as part of the Summer Reading Challenge log on to www.eventbrite.co.uk/o/inverclyde-libraries-31266444707