Changes to food waste recycling service
FOOD waste collections in Inverclyde will switch from weekly to fortnightly from next month.
The small green 'caddy' bins will be emptied every two weeks along with black bin uplifts from 18 July 2022.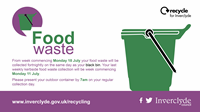 The last weekly kerbside food waste collection will be week beginning Monday 11 July.
Residents are asked to present their outdoor container by 7am on collection day.
Additional outdoor containers are available free of charge to residents who produce a lot of food waste and these can be ordered online via the council website.
As part of the council's budget setting process for 2022/23, the decision was taken to reduce the food waste collection period from weekly to fortnightly.
For more information about recycling services, visit www.inverclyde.gov.uk/recycling and order additional food waste containers at: https://www.inverclyde.gov.uk/forms/ShowForm.asp?fm_fid=365.