Make the most of your free bus travel throughout summer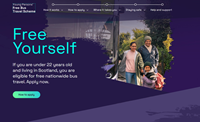 With summer upon us, your thoughts might be turning to visiting the friends and family you haven't seen in a while or even discovering new places you've never been to.
Whatever you decide to do, the bus will help you get there – and for free if you are under 22 and have a National Entitlement Card of Young Scot National Entitlement Card.
Free bus travel makes it easier to get round and make the most of your summer holidays.
If you've got kids, you could take them to see their gran without having to pay for them. If you're old enough to travel by yourself, you might meet your pals at your favourite place and save your money for other things. And there are lots of attractions around Scotland with a bus stop right outside.
So go on, hop on a bus and have the time of your summer.
Find out more about the free bus travel scheme for under 22s at freebus.scot (link on this page)