Making parking simpler in Inverclyde
PLANS to simplify parking rules across Inverclyde and create more free spaces have been unveiled by the council.
The local authority is seeking views on proposals to alter existing regulations, which vary in towns and villages, and standardise them right across the area.
Changes, if agreed, would affect Greenock, Port Glasgow, Gourock and Kilmacolm centres where there are currently restrictions and include the following in designated areas:
• 2-hour restriction with no return within 30 minutes, Monday to Friday from 8am to 6pm;
• Requirement to display a parking disc;
• Exemption for Residents' Parking Permit holders and Blue Badge holders.
• Free of charge parking
It is also proposed to introduce a sliding scale for charges in council-owned 'pay and display' car parks allowing up to two hours' free parking and a charge of between £1-£4 thereafter depending on the length of stay with Residents' Permit and Blue Badge holders exempt.
All council 'paid-for' car parks are currently free to use until 30 September but would normally cost a flat rate of £2 to park all day.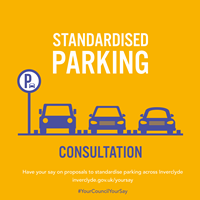 If agreed, the new car park charges would be as follows:
0-2 hours - Free
2-3 hours - £1
3-4 hours - £2
4+ hours - £4
The changes are being proposed following feedback from the public, traders of the town and village centres and visitors.
A consultation seeking the views from individuals and businesses has now launched and will run until August.
Councillor Michael McCormick, Inverclyde Council's convener of environment and regeneration, said: "We know that parking restrictions can vary between our town and village centres and can be confusing so the aim here is to standardise the rules right across Inverclyde to make it simpler for locals, businesses and visitors to know what the regulations are and act accordingly no matter where they are parking.
"These proposed changes also create more free spaces for people to make use of, provides greater choice over the length of stay, and exempt Residents' Permit and Blue Badge holders to ensure they can still access parking easily.
"While these changes are based on feedback from residents, visitors and traders, it is important that as many people as possible who may be affected by the proposals get the opportunity to have their say before any final decisions are made and I encourage individuals and businesses to take part in this consultation and help us in our efforts to improve parking in Inverclyde."
These changes, if agreed, would make it easier for everyone, including visitors, to understand the parking restrictions in each location, would help promote recovery of town and village centres through turnover of spaces, and would help increase footfall to support 'shop local' campaigns.
The Standardisation of Parking in Inverclyde consultations is now open and the closing date for responses is Friday 26 August 2022.
For more information about the plans and to take part in the consultation, visit www.inverclyde.gov.uk/yoursay.
If changes to the parking system are agreed, Traffic Regulation Orders will be promoted to formally introduce the changes.