New car park for Greenock Town Centre
A NEW car park has opened in Greenock Town Centre providing 20 spaces.
Inverclyde Council has invested £100,000 in creating the facility on Jamaica Street on the site of a former church building which was destroyed by fire in 2018.
The new car park has 20 spaces, including two disabled bays and two electric charging points, although the chargers themselves will be installed at a later date.
The parking places will compensate for the reduction in spaces along West Blackhall Street, which is set for a £4.5 million makeover.
There will be a small charge to use the Jamaica Street car park but is currently free to use like all other council 'pay and display' sites as part of a package of support from the local authority to help with the recovery from the Covid-19 pandemic.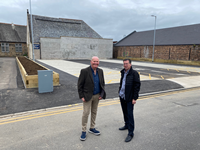 Councillor Michael McCormick, Inverclyde Council's convener of environment and regeneration, said: "We know how important it is to be able to park in Greenock Town Centre and this car park is ideally placed to provide access to Jamaica Street itself as well as West Blackhall Street, Grey Place and surrounding areas for locals and visitors alike to discover Greenock and Inverclyde.
"These spaces, combined with the creation of extra on-street bays along Dalrymple Street, will make up for the reduction in parking along West Blackhall Street when it undergoes a £4.5m redevelopment.
"The creation of the car park also brings back into active use a site that was left derelict following the church fire and is another important piece of the jigsaw in terms of the regeneration of Greenock Town Centre."
Jamaica Street car park opened on Tuesday (21 June 2022) following the completion of construction work, which began at the end of March.
For more information about parking in Inverclyde, visit www.inverclyde.gov.uk/parking.