Share your care story
People using care services in Inverclyde can now share stories of their experiences thanks to a partnership between Inverclyde Health and Social Care Partnership (HSCP) and Care Opinion.
Care Opinion is an independent, not-for-profit organisation which runs an award-winning national website.
The website, which is now available to access through the HSCP pages of the Inverclyde Council website gives everyone who uses health and social care services the chance to share their story, make suggestions about how services could be improved, say what was good or not good about their care and treatment and why.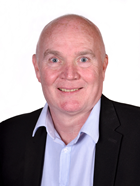 They can also see responses from the HSCP on any issues, concerns and compliments.
The Care Opinion service is open to everyone who uses health and social care services including relatives, carers and friends.
Inverclyde Health and Social Care Convener, Councillor Colin Jackson, said: "Care Opinion gives people a way of sharing what they think of the services they have received and to make suggestions about how Inverclyde Health & Social Care Partnership services could be improved.
"People can also see responses as well as any actions taken as a result of the story shared.
"The care we give to people is the heart of the services delivered by the HSCP and it is important that people have the chance to let us know about that care and to share their experiences."
Laura Moore, Inverclyde HSCP Chief Nurse, said: "I am looking forward to the implementation of Care Opinion for all Inverclyde HSCP services.

"I am proud to be working for caring and compassionate Inverclyde and assisting staff to routinely ask for feedback and demonstrate staff are listening and working on improving services."
Find out more about Care Opinion by going online to www.careopinion.org.uk and it more information is also available through the HSCP pages at www.inverclyde.gov.uk.